CAIRO - Egypt's presidency spokesman Yasser Ali said Thursday that President Mohamed Morsi has issued a new constitutional declaration.
Ali said the new declaration aims at destroying the old regime's framework, and annihilating corruption in the country and the society, as well as purging the national machines out of the remainder of the "ruined regime", in order to protect the people and the country, and achieve the societal justness.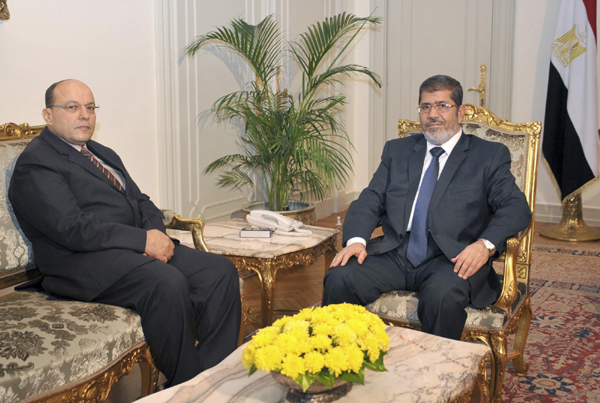 Egypt's President Mohamed Morsi (R) meets Egypt's new prosecutor general Talat Abdullah at the presidential palace in Cairo Nov 22, 2012. [Photo/Agencies]
The new constitutional declaration ruled that holding retrials on crimes of killing and injuring protesters during the last year's uprising, as well as terror crimes committed against revolutionaries under the former regime, Ali added.
All laws, decrees and constitutional declarations issued by the president since coming to office on June 30, 2012, are final and unchallengeable by any body, the declaration said, while it will not lead to reinstate the People's Assembly, the lower house of parliament, Ali confirmed to al-Jezeera TV.
Speaking of the Constitutional Assembly, the declaration noted that the new draft constitution will be formed within a maximum period of eight months, instead of six, from the date of assembly' s formation, which means the new declaration extended the period of drafting for another two months, until February, 2013.
No judicial body is entitled to dissolve the Shura Council (upper house) or the Constituent Assembly, the presidential spokesman said.
The president has the right to take necessary measures to face any threats posed to the uprising in January, 2011, national unity or security in accordance with the law, the spokesman added.
Talat Ibrahim Abdullah, a member of the judiciary, was appointed by Morsi as new prosecutor general for four years, to replace current prosecutor general Abdel-Maguid Mahmoud, following the new constitutional declaration, stipulating that the presidential decree is entitled to appoint a prosecutor general for a four-year term among the members of the judiciary.
The Supreme Council of the Armed Forces (SCAF), which ruled the country for a transition period after toppling former president Hosni Mubarak, issued a supplementary constitutional declaration on June 17 to fix the powers and tasks of state institutions and the armed forces until approving the new constitution.
However, democratically elected president Morsi issued a new constitutional declaration on August 12, and cancelled this declaration issued by the army.