LOS ANGELES - A rally was held Tuesday afternoon to protest Israel's offensive in Gaza, with calls for ending all US aid to Israel.
Lots of police cars were gathered at Los Angeles' Westwood Federal Building where the rally was held, but police officer Bruce Borihanh of the Los Angeles Police Department told the press there have been no arrests till 7 pm local time (0300 GMT Wednesday).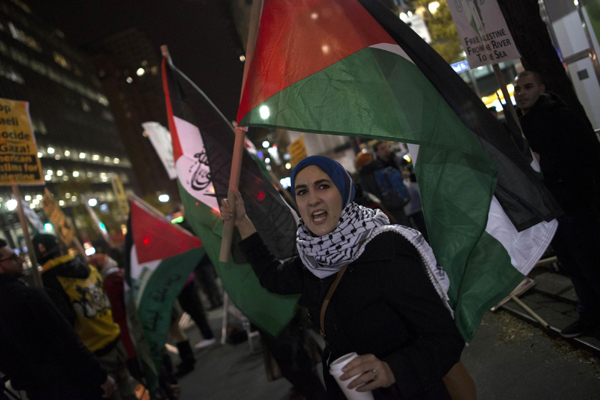 Demonstrators participate in a protest in support of Palestinians and against the Israeli military action in Gaza, across the street from the Israeli consulate in New York, Nov 20, 2012. [Photo/Agencies]
The rally was initiated by the ANSWER Coalition (Act Now to Stop War & End Racism) and co-sponsored by some other student and community organizations including Students for Justice in Palestine -- University of California in Los Angeles (UCLA), Students for Justice in Palestine -- University of Southern California (USC), Palestinian American Women's Association, and Veterans For Peace.
According to the Palestinian Ministry of Health run by Hamas, 130 Palestinians have been killed in the Israeli air raids on the Gaza Strip since last Wednesday, with more than 1,000 others wounded. Meanwhile, Israel reported that five Israelis have been killed in Palestinian rocket attacks.
Mike Prysner from the ANSWER Coalition said hundreds of demonstrators gathered at the federal building to demand an immediate stop of military attacks against Palestinians.
"All US aid to Israel should be ended once and for all. The people of the United States stand against the government that speaks in our name and sends $3 billion of our tax dollars every year so that Israel can kill and colonize the people of Palestine," the coalition said in a statement.
"The fact that the Obama administration was briefed on Monday prior to the attack shows that these latest crimes are a joint US-Israeli operation. The Pentagon immediately announced after the first wave of murderous assaults today that Israel was its 'partner.' Israel may be a partner of US as it acts as an extension of Pentagon and CIA power in the Middle East," the statement said.
"But it is absolutely not the partner of the people of this country who are horrified by its policy of endless war against the Palestinian people and all the peoples of the region," the statement said.
Tuesday's rally came after some 1,400 demonstrators rallied in Los Angeles to voice their support for Israel while about 250 demonstrators rallied against the Jewish state.
Demonstrations by both Palestinian supporters and pro-Israeli groups have been staged in other US cities like New York, Boston, Atlanta, Chicago, Denver and Seattle, according to press reports.