GAZA/JERUSALEM - US Secretary of State Hillary Clinton met Israeli Prime Minister Benjamin Netanyahu on Tuesday and pledged to work for a truce in the Gaza Strip "in the days ahead".
As the two began late-night talks in Jerusalem, Palestinian rocket fire and Israeli air strikes continued. Netanyahu said he would prefer a "long-term" diplomatic solution but repeated his readiness to step up an offensive against Gaza's rocket crews.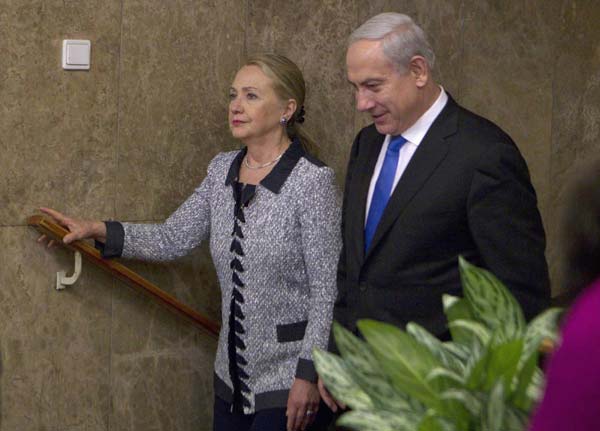 Israel's Prime Minister Benjamin Netanyahu walks with US Secretary of State Hillary Clinton upon her arrival to their meeting in Jerusalem Nov 20, 2012.[Photo/Agencies] 
Clinton's outline of further days of negotiation, notably in Cairo with Egyptian President Mohamed Mursi, may dampen talk of an immediate end to a week of violence that has killed over 140 people, most Palestinians but including two Israelis on Tuesday.
Officials from Egypt and from Gaza's ruling Hamas movement had talked up the chances of an end to hostilities, at least in some interim form, by the end of the day. But a Hamas leader in Cairo later told Reuters there would be no announcement before Wednesday. He blamed Israel for not responding to proposals.
Netanyahu, who faces a general election in two months and had mobilised army reserves for threatened ground invasion of the enclave, stressed his interest in a "long-term" deal to end rocket fire on Israel - a kind of deal that has eluded him and his predecessors in four years since Israel's last offensive.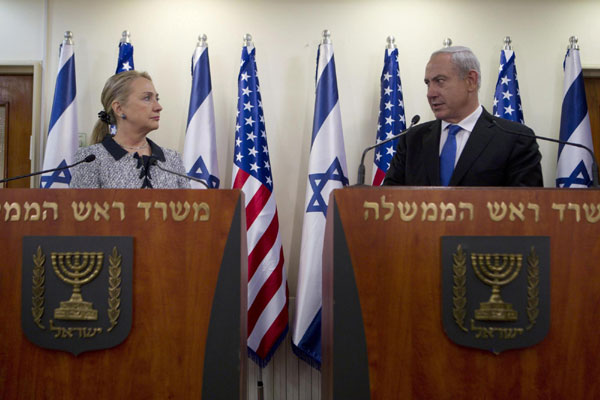 Israel's Prime Minister Benjamin Netanyahu and US Secretary of State Hillary Clinton deliver joint statements in Jerusalem November 20, 2012. The United States signalled on Tuesday that a Gaza truce could take days to achieve after Hamas, the Palestinian enclave's ruling Islamist militants, backed away from an assurance that it and Israel would stop exchanging fire within hours.[Photo/Agencies]
Clinton, too, who broke off from an Asian tour with President Barack Obama and assured Netanyahu of "rock-solid" US support for Israel's security, spoke of seeking a "durable outcome" and of the "responsibility" for contributing to peace borne by Egypt, Gaza's other neighbour, whose new leaders hail from the Muslim Brotherhood that inspired Hamas's founders.
"In the days ahead, the United States will work with our partners here in Israel and across the region toward an outcome that bolsters security for the people of Israel, improves conditions for the people of Gaza and moves toward a comprehensive peace for all people of the region," Clinton said.
"It is essential to de-escalate the situation in Gaza. The rocket attacks from terrorist organisations inside Gaza on Israeli cities and towns must end and a broader calm restored.
"The goal must be a durable outcome that promotes regional stability and advances the security and legitimate aspirations of Israelis and Palestinians alike."
Netanyahu, who has seemed in no immediate rush to repeat the invasion of winter 2008-09 in which over 1,400 Palestinians died, said: "If there is a possibility of achieving a long-term solution to this problem with diplomatic means, we prefer that.
"But if not, I'm sure you understand that Israel will have to take whatever action is necessary to defend its people.