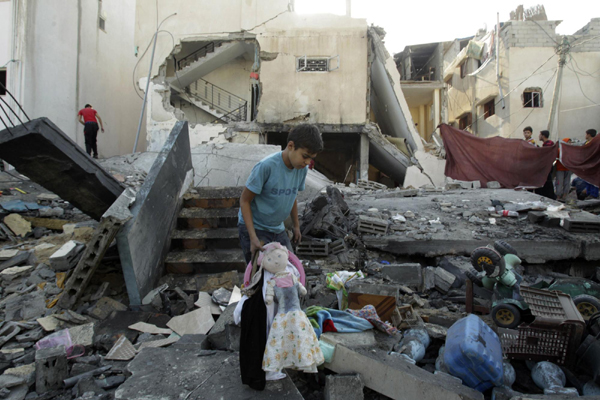 A Palestinian boy holds a doll as he walks amid the rubble of a destroyed house after what witnesses said was an Israeli air strike, in Rafah in the southern Gaza Strip, Nov 20, 2012. [Photo/Agencies]
GAZA - Eight Palestinians were killed and several others injured on Tuesday evening in the ongoing intensive Israeli war jets airstrikes on the Gaza Strip, medical sources and witnesses said.
The sources told Xinhua that three were killed in a fresh Israeli airstrike on a house of a Hamas activist in eastern Gaza City, adding that three more were injured.
The sources also said a Palestinian was killed and another was injured in an Israeli airstrike on a motorbike in Rafah town in the southern Gaza Strip.
Meanwhile, medical sources said that two Islamic Jihad militants were killed on Tuesday evening in an Israeli airstrike on a car which drove in the central Gaza Strip town of Deir el Ballah. Another one was also killed in a separate airstrike in the same town.
An activist was killed and another was injured when they were targeted by an Israeli missile near the northern Gaza Strip town of Beit Hanoun, according to the sources.
Hamas-run Ministry of Health said the death toll since Wednesday in the Gaza Strip has climbed to 130 and more than 1,000 people were wounded in the ongoing Israeli aerial operation on the coastal enclave.
Israeli Radio reported that five Israelis were killed, including a soldier, a woman and three men.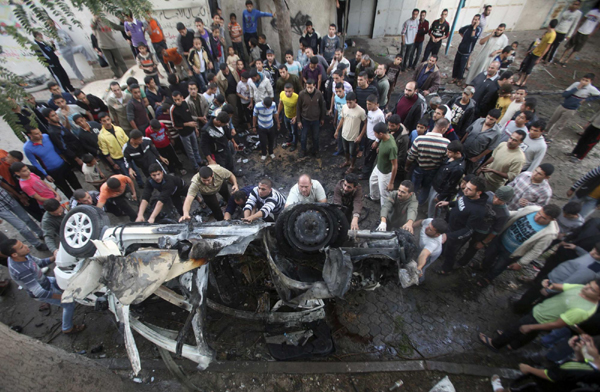 Palestinians gather around a destroyed car after what witnesses said was hit by an Israeli air strike in Gaza City, Nov 20, 2012. [Photo/Agencies]