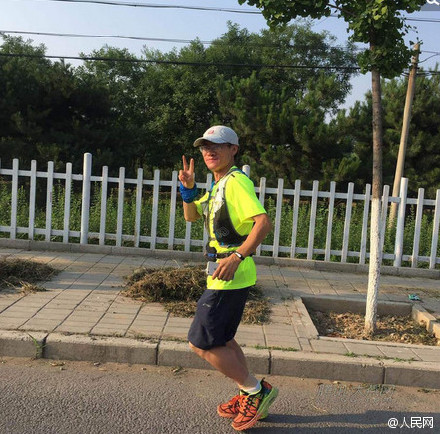 Liu runs on the Sixth Ring Road.[Photo/Sina Weibo]
A man in Beijing has surprised many by running for 45 hours straight on the 200-kilometre-long 6th Ring Road in the capital, Beijing Youth Daily reported on Tuesday morning.
Liu Zhongjie, a 33-year-old Chongqing native who lives in Beijing, posted a message on his WeChat account on Friday night saying "do what you love and you will meet the one you love." After that, he began his marathon run near a subway station at round 10:17 pm, with necessities such as maps, headlights, clothes and energy bars.
He just kept going and finally completed the loop at about 7:27 pm on Sunday night after running for 45 hours and 10 minutes and covering a total distance of 222.48 kilometers.
When asked about the record set by a 22-year-old man who ran the 6th Ring Road in 44 hours, Liu said his aim was to challenge himself, not break records.
To prepare for the grueling challenge, Liu prepared himself well. He took part in a high-attitude hiking training before the marathon to build physical endurance, he studied three different route maps and set up supply stations to make sure he had timely access to supplements. To ensure safety, Liu chose to run mostly on the side roads of the 6th Ring Road.
During the whole 45-hour run, he only took three hours of rest. He said the more rest you take, the least you want to keep going. The most difficult period was early Saturday morning when both his mind and body came to a breaking point after running for whole night and with 10 more hours to go in the summer heat. He found it difficult to eat anything.
He was forced to take 30-minute break when he was almost near the finishing line after he pulled a muscle in his leg.
"Some think I'm crazy, and others believe it's for a show, but I have my own reasons," Liu said, "I come from rural area, and when I was a child I had to walk a long distance to reach my school. Running has been a part of my life."
Liu showed a picture of him running 5.12 kilometers on May 12, the date when the Wenchuan earthquake happened eight years ago. At that time Liu was a college student in Sichuan province when the quake struck.