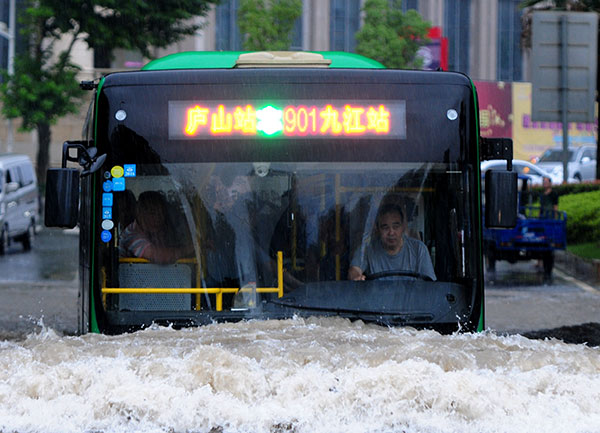 A bus makes its way through floodwaters in Jiujiang, Jiangxi province, on Sunday. HU GUOLIN/CHINA DAILY
Torrential rain across nine provinces and Chongqing municipality in central and southern areas of China has left more than 20 people dead and forced tens of thousands from their homes.
Fifteen people have been reported missing since the heavy downpours started on Saturday, the State Flood Control and Drought Relief Headquarters said on Monday.
It said nearly 268,000 people have been relocated and 324,000 hectares of crops have been damaged, leading to direct economic losses of 6 billion yuan ($912 million).
In Chongqing, five people died, 1,197 were forced to leave their homes and 66 houses had been destroyed since Saturday, the city's flood control and drought relief office said.
In neighboring Sichuan province, four people died on Sunday after heavy rainfall and landslides caused their homes to collapse, according to the provincial flood and drought disaster relief authority.
Three people died in Anhui province, 26,000 were relocated and nearly 1,100 homes were destroyed, the provincial civil affairs department said.
In the southwestern province of Guizhou, nine people died last week in disasters caused by heavy rain.
Rescuers are working to free eight workers from a coal mine shaft, which was flooded after torrential rain fell on Sunday, the provincial civil affairs department said.
Flooding and hail killed two people and displaced 13,000 in the northwestern Xinjiang Uygur autonomous region after the area was affected by bad weather from Thursday to Sunday. One person is still missing, the Ministry of Civil Affairs said on Monday.
The National Meteorological Center issued a yellow alert on Monday for heavy rainfall in southern areas. From 2 pm on Monday, storms were expected across a vast area along the Yangtze River, including Anhui, Jiangsu and Hunan provinces.
Contact the writer at zhang_yi@chinadaily.com.cn