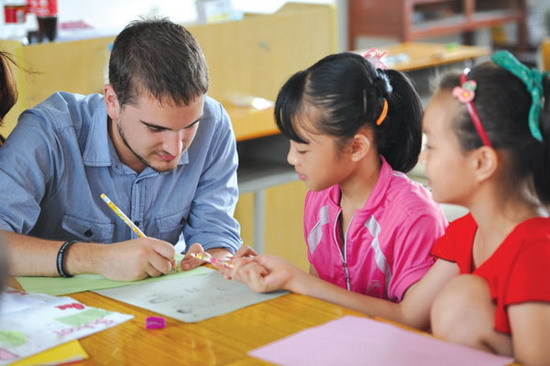 An British teacher teaches Chinese children how to learn English through paintings. Many students in China have trouble learning English and using it in their daily lives. [Photo/China Daily]
She state administration of foreign experts affairs is set to release a raft of guidelines designed to ensure that unqualified foreigners are not employed in schools and educational establishments.
T wenty years ago, many English-speaking expats in China applied for teaching jobs because work was easy to come by. Routine inspection of qualifications was almost nonexistent and all most people needed were their mother tongue and an engaging character.
The old criteria no longer apply. China is now demanding better-qualified, more-competent English teachers, and by the end of the month the nation's top regulator of expat employment is expected to further raise the bar by implementing a tough application policy.
"Expats who want a job as an English teacher will have to obtain a teaching certificate in China, just as Chinese teachers do," said Qiu Xusheng, a senior official with the State Administration of Foreign Experts Affairs.
The new policy has been designed to meet the ever-rising demand for high-quality foreign experts, Qiu said. Although he declined to reveal further details of the upcoming regulations, he said regulators at the provincial and municipal levels will be required to fully implement the new policy.
"Once we confirm that people have been hired illegally, we will report the facts to the relevant administrative departments, such as the public security department," he added.
A previous guideline, issued in December, imposed stringent requirements for expats from non-Anglophone countries who want to teach English. According to the document, to qualify for an employment visa, teachers from non-English-speaking countries must hold a bachelor's degree or higher from a university in an Anglophone country and have two years' teaching experience. The latter requirement can only be waived if the applicant has an accredited certificate in teaching English as a foreign language or holds a teaching certificate in their home country.
Given the lack of details about the new policy, it's still too early to judge how effective it will be, but Chris Stevens, of Houghton Mifflin Harcourt International, a global education provider, believes it will improve the situation.
"The new policy is in any sense a good thing. The government is taking steps aimed at improving the level of expat teaching in China," he said, pointing out that some expats enter the country on a tourist visa or a visa issued for business trips, then look for work as teachers. Some take the job for a couple of months just to cover their travel fees.
"Students can hardly learn a lot from teachers who lack systematic training," Stevens said. "I don't see any reasons to lower the standards for English teaching when many other professions have them."
The new guidelines might be hard on expats who lack professional training and are unable to use their cultural backgrounds as advantages and regard language teaching as a valuable tool to help children grow, he said, adding that well-trained, professional expats can help students in fields unrelated to language skills.
"Chinese students tend to be quieter and stand back a little bit compared with students in the United States," Stevens said. "If teachers are aware of the cultural differences and (know) how to motivate quiet students to speak out, how to help them become more confident, they would really benefit the students in the long run."