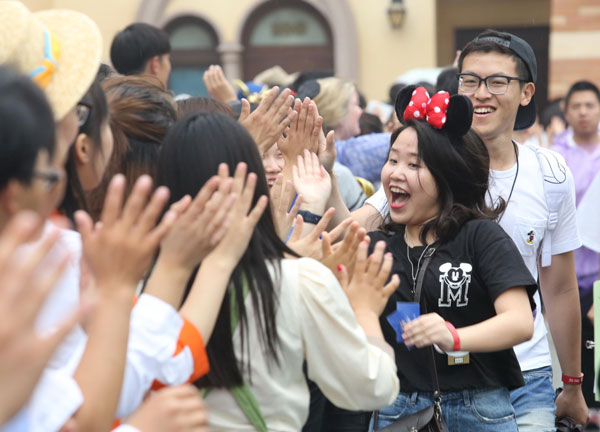 Staff members welcome visitors after the opening ceremony of the Shanghai Disney Resort.LIU XIN / FOR CHINA DAILY
Thousands of Chinese and overseas visitors flocked to the opening day of the Shanghai Disney Resport on Thursday.
Rain that fell during the day failed to dampen their enthusiasm for the $5.5 billion theme park.
You Xinwei, a 25-year-old who works in the logistics industry, said after taking a Roaring Rapids ride: "There were surprises at every turn the raft took and it became scarier as we went deeper into a dark cavern. The experience was fun and thrilling," added You, standing in wet shoes and clothing afterward.
Having visited Hong Kong Disneyland, You said the Shanghai park is larger and offers more high-tech attractions.
Koike Hideya and his wife Kyoto flew to Shanghai from Nagoya in Japan for a three-day trip. Compared with Tokyo Disneyland, he said the Shanghai park is bigger, prettier and its attractions are better with the use of high-technology.
The couple, who are in their 40s, were among more than 10,000 visitors to the Walt Disney Co's sixth resort and among the first group of overseas Disney visitors to the Chinese mainland.
Bob Iger, the company's chairman and chief executive officer, said on Wednesday: "When we open, we will continue construction to expand ... We've had some discussions, mostly internal, on what we would like to do next year."
The resort is the largest foreign investment to date for the California-based company.
"Nothing is as impactful. Nothing creates a connection to our stories, to our brands, to our characters, than a theme park experience," Iger was quoted as saying by Bloomberg.
"The experience people have when they spend time in our theme parks is immersive. They not only hear and see our stories but they actually enter them, they live in them."
While most of the 300 theme parks in China are unprofitable, Disney is leading an incoming wave of megaparks developed by both local and foreign operators competing for a tourism industry that is set to double in size by 2020.
According to Bloomberg, about 60 more parks will open by 2020 to serve Chinese consumers, including Dalian Wanda Group's chain of 15 Wanda Cities.