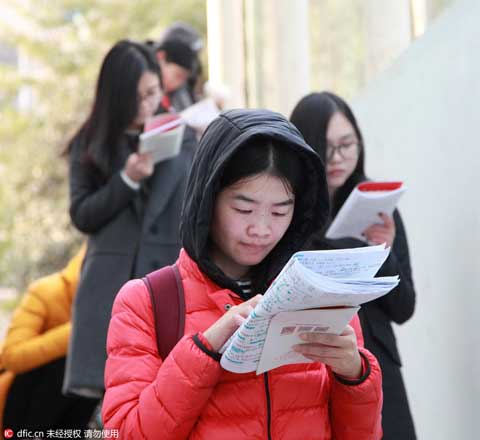 Candidates review their notes before the civil servant recruitment exam of Jiangsu province at Nanjing Forestry University in Nanjing, capital of East China's Jiangsu province, March 12, 2016. [Photo/IC]
The number of China's State employees is growing and government posts remain appealing to job seekers, said experts.
China had 7.16 million civil servants at the end of 2015, according to the Statistical Communiqué on China's 2015 National Economic and Social Development issued by the the Ministry of Human Resources and Social Security. It is the first time that the MHRSS publishes the number of civil servants in China.
"This is not a large number compared with that of developed countries," Zhu Lijia, a professor with the National Academy of Governance, told China Economic Weekly.
China also has many other State-financed employees that are not civil servants but are still paid for by taxpayers. The number of State employees stands at around 50 million, according to Zhu's estimates, a rise from around 40 million in 2008.
The number of State employees is growing as new college graduates and retired soldiers join the ranks every year, with only a limited number of people retiring from their posts, said Shen Ronghua, vice chairman of Chinese Public Administration Society.
Another major concern is the disproportionate number of leaders to ordinary staff in government departments.
A media report showed that in one government department in Central China's Hunan province, there are 61 cadres of at least section level (the lowest leading position in the hierarchy), compared with only 21 ordinary staff who undertake most of the tasks.
"In some Chinese cities, with each municipal leader come seven or eight deputies. The salary of one leader amounts to that of five or six ordinary employees," said Zhu.
Both the number of applicants and the number of new civil servants have dropped for two years, according to statistics of the MHRSS. But Zhu Lijia said that does not mean that the civil service has lost its appeal to job seekers.
"The drop in the number of applicants for civil servants reflects the fact that college graduates have become more rational in choosing government jobs, and it is also the result of efforts by authorities to keep the number of civil servants at a proper scale," said Zhu.
"Compared with other jobs, jobs in the civil service are more stable," said Zhu. "As the economy develops, the salary of civil servants will grow accordingly. Its appeal will not fade in the short term."