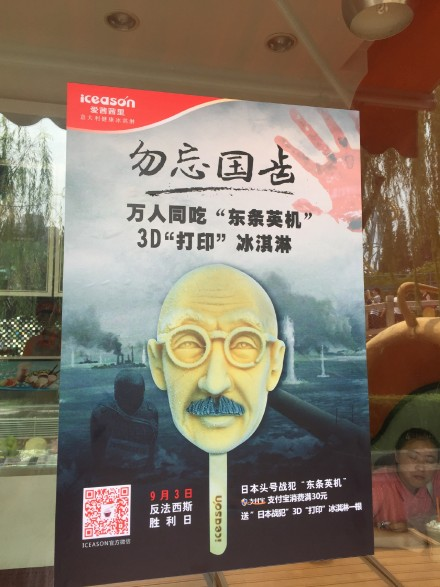 The poster of the ice cream calls on ten thousand people to eat the portrait of the war criminal to remember the anti-fascist war. [Photo/nanjixiong.com]
War criminal ice cream on sale in Shanghai
As Beijing prepares for the military parade to mark the 70th anniversary of the end of World War II and the victory in the War of Resistance against Japanese Aggression, an ice cream chain store in Shanghai is marking the occasion in a creative way.
It is selling 3-D printed ice creams portraying Japanese wartime prime minister Hideki Tojo. The poster for the ice cream calls for ten thousand people to eat the portrait of the war criminal to remember the anti-fascist war.
Some netizens do not like the idea. An Internet user questions whether anyone would want to eat such an ice cream. Another thinks the idea is boring and pointless, as nothing will be changed even if ten thousand such ice creams are eaten up.
In an unusual bid for revenge, an irate customer blockades a car dealership with several luxury cars, in our next story.