A new college grad comes out as a lesbian at commencement, a woman discovers that a 50 yuan banknote could be worth a small fortune, dog lovers save almost 1,400 canines from being served at a dog meat festival and hundreds of students in Henan province beat the summer heat by taking their final exams outdoors.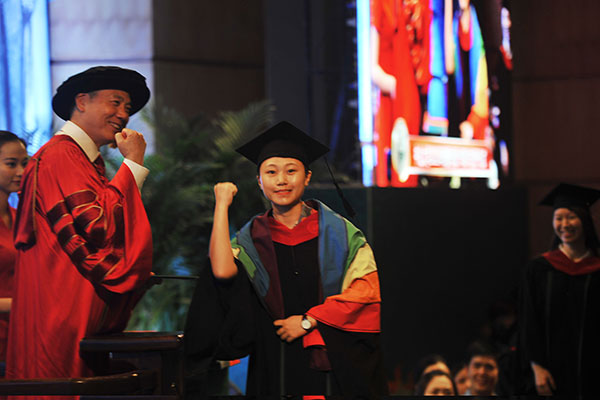 The president of the university shows support for a graduate who came out. [Photo/CFP]
Graduate comes out at graduation ceremony
The legalization of gay marriage nationwide in the US has deeply encouraged LGBT groups around world seeking expanded rights.
A graduate at Sun Yat-sen University came out of the closet during commencement on Saturday in Guangdong province, claiming her identity as a lesbian to the president of the university.
The graduate politely asked the university president, "Would you make a gesture of support for sexual minorities?" and the president made the gesture and hugged her.
She also posted on Weibo, appealing for equal rights among people of different identities.
Up next: a 50 yuan banknote could prove to be a cash bonanza.