In today's trending, university advertises graduates on Taobao, woman runs off with carpool partner, man imitates Chinese classic in apologizing to girlfriend, and a baby formula buying guide cartoon map.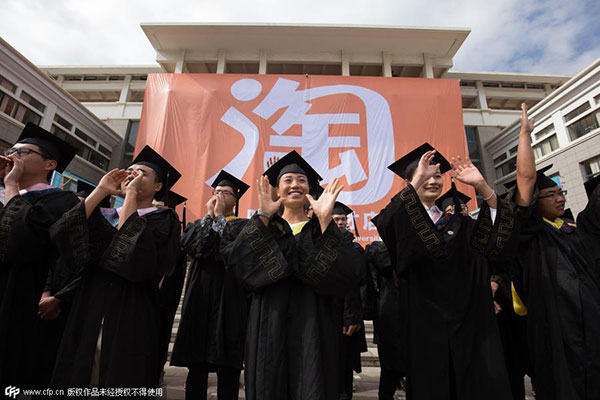 Graduates stand in front of the banner of Taobao. [Photo/CFP]
Kunming University advertises graduates on Taobao
Taobao.com is one of China's most popular online shopping websites, and is famous for being the place where you can buy just about anything. Now, you may even be able to "buy" college graduates on it, reported cfp.cn on Thursday.
Kunming University in Yunnan province has set up a page on Taobao.com to introduce 65 of its top graduates. All the graduates are pictured wearing white T-shirts and jeans, with their basic information including their major, height and ideal workplace and professions listed on the site.
Companies can pay a 1,000 yuan deposit per graduate to show their interest, which will be returned in a week, and the university will help to set up interviews between the companies and the students.
The president of Kunming University said that universities should be more creative in helping graduates find jobs as it has been getting harder to find a job, and this is just one initiative he has started at his school.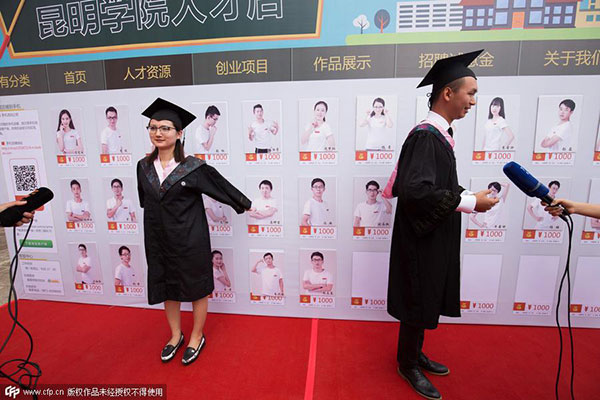 Graduates stand in front of the wall of their promotional pictures. [Photo/IC]
In our next story, a husband unwittingly acts as cupid for his wife and her carpool partner.