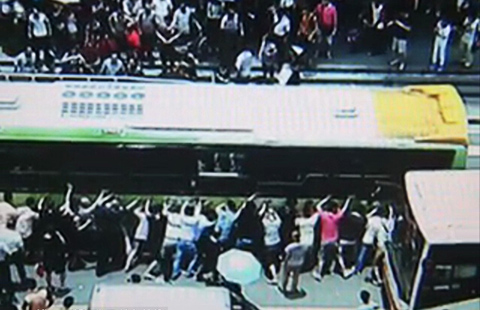 A throng of passengers and residents nearby rushed to lift the head of a bus to pull out a 76-year-old woman who was hit and stuck under one wheel, on Thursday at noon, in South China's Guangzhou. [Photo/IC]
Crowd saves crushed granny under bus
A throng of bystanders rushed to lift a bus and succeeded in saving a 76-year-old woman who was hit and stuck under one wheel, on Thursday at noon, in South China's Guangzhou.
The elderly woman was hit when the bus started to leave the station, and was stuck under the wheel on the driver's side. Her hair and clothes were under the wheel, so people gave up on pulling her out, and tried to lift the front of the vehicle instead. Many nearby passengers and residents came to help.
After 15 minutes of lifting, the vehicle lifted slightly, and two young men crawled under it to pull the woman out. Later an ambulance came to send her to a hospital. She sustained head injuries, and her left arm broke.
Police have determined that it was an accident.