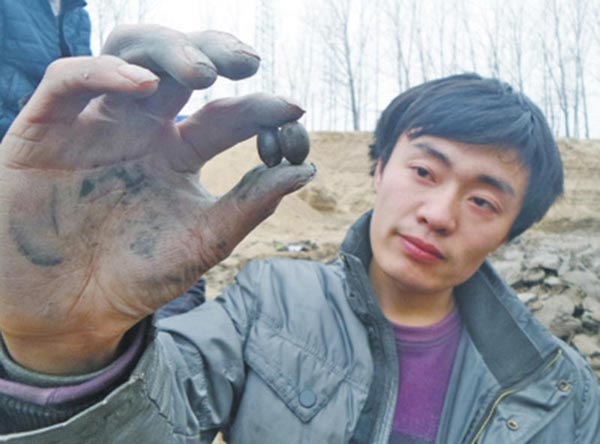 A villager displays Song-Dynasty lotus seeds unearthed from a pit hole in Xingkou township of Qixian county in Henan province. [Photo/news.163.com]
Thousand-year-old lotus seeds found
Some thousand-year-old lotus seeds have been unearthed by villagers in a county in Henan province, attracting scores of locals from nearby villages to dig for "treasures" before the start of Spring Festival.
About one or two dozen lotus seeds were excavated everyday from eight to nine meters underground inside a pit hole left after the construction of an expressway passing through the central China village, a villager surnamed Gong was quoted as saying by local media Dahe Newspaper.
Zhou Qinghuai, deputy head of the Bureau of Culture in Qixian county, said the lotus seeds were quite possibly grown in Song Dynasty (960-1279) and settled down and imbedded into the ground after a change in course of the Yellow River swept through the county.
The ancient seeds, not as precious as many thought, do not fall into the category of cultural relics that are protected, though they may has some research value. Local villagers use the lotus seeds for bracelet and necklace.
Among all the seeds, lotus seeds have the longest life, between 830 years to 1,250 years, as its hard shell protects it from dryness and moisture, according to the Archeological Institute at the Chinese Academy of Sciences.