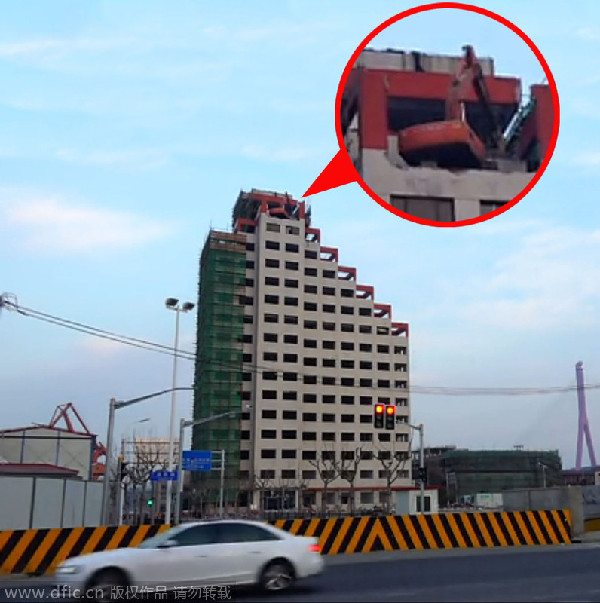 A car drives past the building with an excavator on top in Shanghai, Feb 6, 2015. [Photo/IC]
High anxiety: excavator spotted on fifteenth floor
An excavator was seen on the rooftop of a 15-storey building in Shanghai on Friday, seemingly determined to tear down the building from the top.
The building, located at Shanghai's Miaopu road, used to be an office block. The excavator, which weighs about 20 tons, was lifted onto the high-rise by crane, according to the security personnel at the site.
However, construction workers said the heavy machinery will soon be carried down to the ground as the building was found to be unable to support its weight.
Imagine taking the same photo for 35 years – a father and daughter did this, and shared the results on the web, in our next story.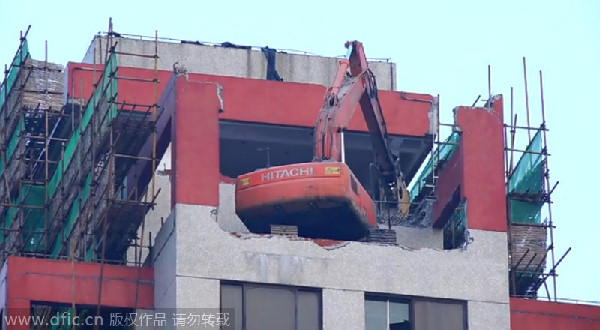 An excavator is seen on the top of the 15-story building in Shanghai, Feb 6, 2015. [Photo/IC]