In today's trending, a mother sacrifices her long hair for her unborn child, crane trucks make up wedding motorcade, a little girl is used to pay for a bath, an excavator is seen on the fifteenth floor, and 35 years of the same father-daughter photo moves netizens.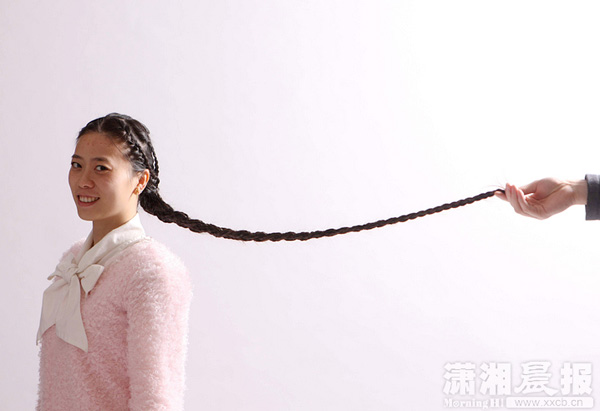 Zhu Qing poses with her long hair in an undated photo. [Photo/xxcb.cn]
Mother cuts 1.3 -meter long hair for baby
A two-months pregnant woman in Hunan province has cut her 1.3-meter long hair which she has been keeping for 13 years, for the sake of her unborn child, xxcb.cn reported.
Zhu Qing said she is worried the long hair would take away nutrition from her growing baby . "I will do it for him or her," she said.
Ever since she was 14 years old, Zhu Qing has never cut her hair. Zhu was then an avid reader of classical Chinese romantic novels, in which many heroines only trim their hair until they get married.
Cai Min, a maternal and child health expert in Changsha, said a mother's long hair wouldn't influence the growth of a fetus much, as different nutrients are needed for the growth of hair and a fetus. Cai suggested that long hair may only cause inconveniences.
In our next story, an unusual wedding motorcade is composed of heavyweight crane trucks.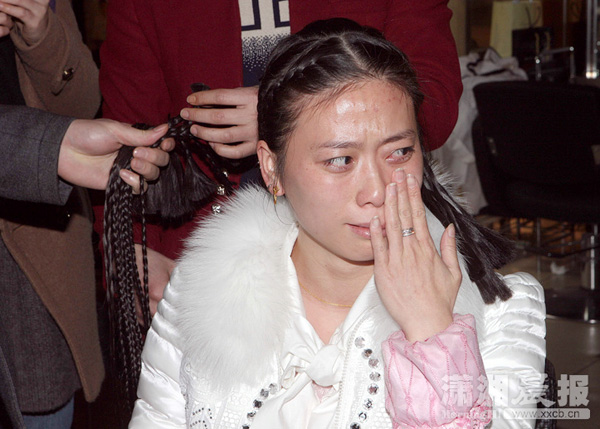 Zhu Qing gets emotional when she decides to cut her long hair which she has been keeping for 13 years, in Changsha, Hunan province, Feb 5. [Photo/xxcb.cn]