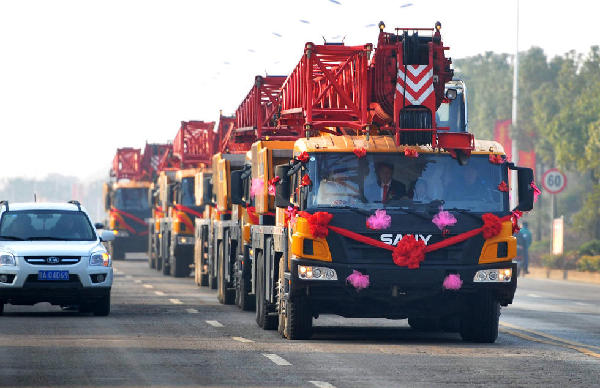 A crane truck fleet on its way to a wedding ceremony in Wuhan, Central China's Hubei province, Feb 6. [Photo/gmw.cn]
A heavyweight wedding motorcade
While a limosine motorcade has become an indispensible part of a Chinese wedding these days, few have seen a bridal fleet composed of heavyweight crane trucks.
Wishing to give his bride a "unique wedding", an owner of a crane truck company in Wuhan put six of his trucks (four weighing 50 tons and two 25 tons) to use on his wedding day in Wuhan, Central China's Hubei province on Friday, gmw.cn reported.
The 25-year-old groom said the number of the trucks – six - implies "good luck" in Chinese, and each of the trucks cost more than 1.6 million yuan ($0.25 million), which matches up to bridal fleets composed of BMWs or Mercedes Benzs.

Next up: Grandfather leaves little granddaughter as a deposit at a bathhouse.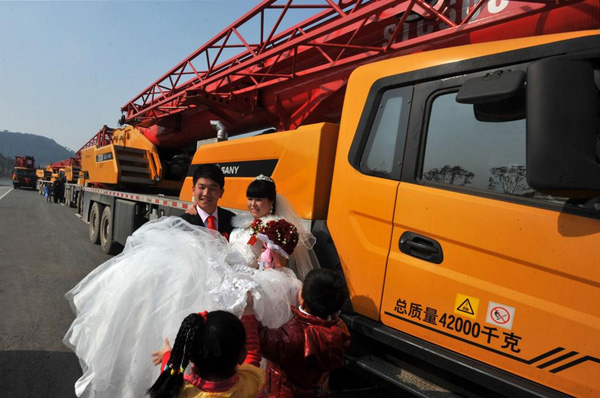 The groom picks up his bride in front of six crane trucks, Wuhan, Hubei province, Feb 6. [Photo/gmw.cn]