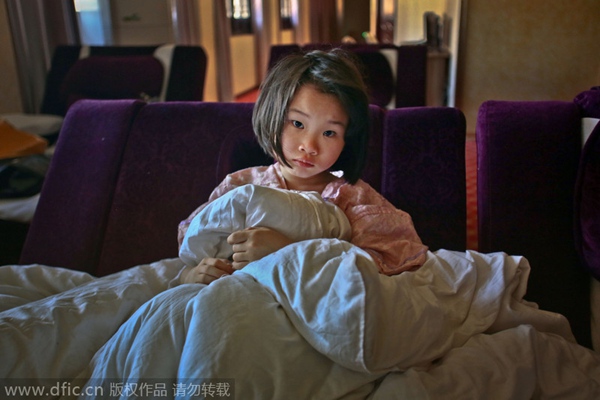 7-year-old Yaoyao who was left behind at a Chinese bath house by her grandfather as a deposit. [Photo/IC]
7-year-old girl left as "deposit" at bathhouse
One month after her cash-strapped granddad left her as deposit, Yaoyao, a 7-year-old girl , has finally been reunited with her parents after spending the last month in a local bathhouse in Kunming, Yunnan province, according to thatsmags.com.
At 10:34pm on the night of Feb 4, someone claiming to be Yaoyao's father finally turned up to claim her.
Staff called up the police to confirm his identity as he explained that he had no idea that his father had abandoned Yaoyao, and that he hadn't turned up earlier because of heavy snowfall in their hometown.
Yaoyao's grandfather left her at the bath house, where he said he wanted a wash and a relaxing massage.
But after claiming he had forgotten his money, the old man said he'd go home to collect the cash - and left the girl there as 'proof' he'd return.
However, a month later the grandfather still did not come back, and the young girllived in the bathhouse for that whole time.
An unusual sight is seen in our next story, when an excavator is spotted on the fifteenth floor.