Extra toilets for Beijing marathon, China Drum's new record, ostrich walk to promote meat, restaurant owner in soup over salt.
500 portable toilets for Beijing Marathon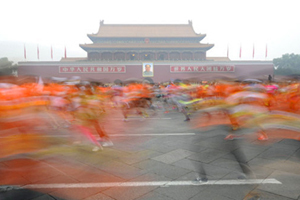 Five hundred portable toilets have been placed for the annual Beijing Marathon at Tiananmen Square on Sunday, 160 more than last year's, Beijing News reported. There is now a toilet at every 2 or 2.5 kilometers.
More than 30,000 people participated in this year's event. Apart from the newly set portable toilets, there are another 400 public toilets on the square, which means there is a toilet for every 33 participants. Photos of last year's Beijing marathon runners answering the call of nature against a wall went viral on the Internet. Some runners said they were forced to urinate in public because there were limited portable toilets on the route.
Related: City marathons prosper in China

'China Drum' sets Guinness record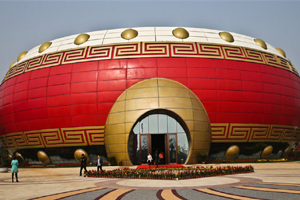 "China Drum", an 18-meter-high drum-shaped building in Hefei, East China's Anhui province, was named the world's largest drum-shaped building by the Guinness World Records on Oct 18, 2014, China News Service reported.
With a diameter of 61 meters, the total area of the drum building is 4,650 square meters. It is shaped like Fengyang flower drum, a traditional percussion instrument in Anhui.
Related: Flower Drum Lantern, the ballet of the East

Promoting ostrich meat by walking them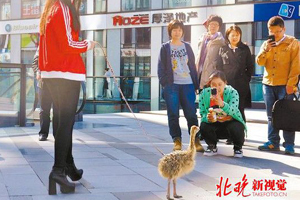 A woman walked an ostrich at downtown Sanlitun in Beijing on Oct 13 and another at Dongdaqiao on Oct 14 with a billboard promoting African ostrich meat, Beijing Morning Post reported.
Walking the ostriches is actually a marketing campaign launched by an online company to sell ostrich meat. A passerby surnamed Liang said it is too cruel to advertise in this way. Police said there is currently no regulation about walking ostriches, but people can report it if they see such a thing.
Related: Take an ostrich ride in Spain

Fine over salt Salt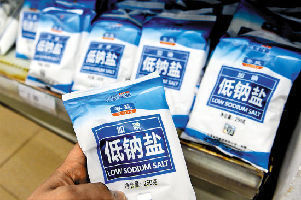 Industry Administration of Xinzheng city, Henan province, apologized on Saturday for imposing a 200 yuan fine on a restaurant owner who brought salt from Zhengzhou city, Yangcheng Evening News reported.
Guo Xin'an, the official who punished Huang, the restaurant owner, said China has rules on buying salt from other regions as the iodine content in people's bodies are different in different places in the country.
Deputy Director of Xinzheng's Salt Industry Administration Shi Li said that while Guo's claim is correct, only a verbal warning is to be issued to people who bring less than 20 kilogram salt from other regions. Huang has been given back the 200 yuan and Guo and another official involved in slapping the fine have been removed from their posts.
Related: Rush to buy salt ends with a pinch of reason