Compensation for earthquake victims doubled; schoolboy displays selfless love and grandparents dig with bare hand to save child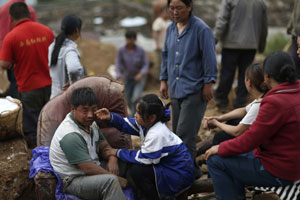 Ten-year-old becomes father's backbone
Liu Jiali, who lost his wife and three of their children in the earthquake, cried amid the debris. His elder daughter, Liu Hourui, 10, comforted him and wiped away his tears, saying: "Don't cry, dad. Everything will be fine" with tears falling.
She supported her father walking away from the debris, saying: "Let's go home. We've got things to do."
Related:
Swift action urged after Yunnan quake

A young boy shows selfless love
Lin Zhilong, an 11-year-old primary school student, spoke of his selfless love for his little sister and classmates after the earthquake struck on Sunday in Yunnan province, news.longhoo.net reported.
During the best time for rescue - 72 hours after the quake –Lin, though buried in the ruins, called Chen Fang, a class tutor, for help. When Chen and the rescue team arrived, they heard Lin's voice: "Save my little sister first, she is dying!"
After being pulled from the rubble, Lin asked the teacher whether there was anything wrong with other classmates. Everybody at the scene was deeply moved.
Related: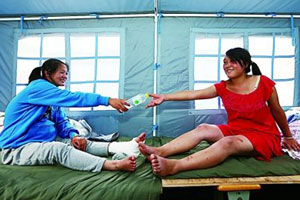 Pregnant women stick together
Two pregnant women who supported each other during the 6.5-magnitude quake were rescued after being buried under debris for three hours, reported the Chongqing Economic Times.
Li Zhaohui and Ai Fuling, both seven-months pregnant, held hands in the dark and gave each other pep talks for the sake of their unborn babies. They were saved after three hours.
They were treated in a temporary tent. Their conditions have been stabilized.
Related:

Grandparents dig out child with bare hands
The grandparents of a 5-year-old girl dug her out of rubble with their bare hands shortly after the quake struck, saving the youngster's life, local new site ynxxb.com reported.
The girl, named Lili, was buried in rubble due to the collapse of a house in Qiaojia county, near the epicenter. Lili, whose parents are migrant workers, was with several young children at home alone when the quake struck. Her grandparents, who were picking peppers on a nearby hill, hurried home and began to dig by hand. After 10 minutes, Lili was pulled from the ruins and sent to hospital for further treatment.
Nearby residents joined the search hoping to save more children. However, three girls and a boy were found dead.
Related:
398 dead as strong quake jolts SW China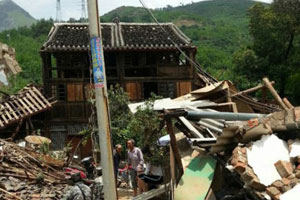 Old wooden building survives seismic shock
An old wooden building, built in 1949, remains standing while other old buildings were flattened, according to e.chengdu.cn.
Two children dodged death as they were sleeping on the first floor of the three-story old wooden building, the report said.
Related:
Quakes should shake up building standards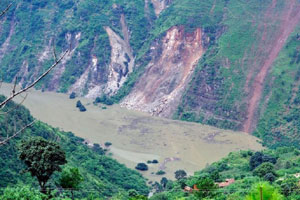 Newly formed lake may flood
A lake formed from the Niulan River in Huize county was created due to the earthquake. The water level has been rising since at a speed of 1.1 meters per hour.
The lake is expected to reach its limit of 58 meters some time on Tuesday and the dam is expected to break, according to news.qq.com.
Related:
Barrier lakes pose threat in quake-hit Ludian

Victim payouts rise to 20,000 yuan
Compensation for those killed in the earthquake have been increased from 10,000 yuan to 20,000 yuan per person, said Yin Jianye, vice governor of Yunnan province,according to The Beijing News.
Families of victims need money urgently. The sooner they get it the faster the situation will be improved, he added.
Related:
Li says govt will shoulder medical expenses