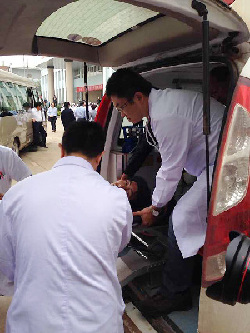 An injured man was rushed to an ambulance in quake-hit Ludian county, Yunnan province, Aug 5, 2014. [Photo by Zhao Yinan/chinadaily.com.cn]
"Don't worry about money. The government will shoulder the expenses, including medical care and accommodation," Premier Li Keqiang told patients during a visit to a hospital in quake-leveled Ludian county, Yunnan province, on Tuesday morning.
He thanked doctors and nurses for their "humanitarian spirits" for helping the injured.
"Some of you rushed to the frontline to offer first aid to the injured villagers, some stayed behind to receive the badly wounded being transported to county hospital...Treating quake injuries requires both professional expertise and kindheartedness and surely you have achieved both," Li told doctors and nurses at Ludian County People's Hospital.
When meeting a dozen of medical experts who have arrived from across the country to the county hospital to provide consultancy, Li said their contribution is like a "timely rain", which can greatly ease the shortage of medical resources at the county hospital.
Ma Yan, a nurse of the internal medicine department at the county hospital, lined up with several other colleagues on the hospital's yard, ready to receive the injured being transported from Longtoushan county, the epicenter.
Yang Xiaogui was the first one that Ma has received on Tuesday.
"He suffered from internal injures in the lungs and an external injury in the head. I think he is in need of further examination," Ma said.
Yang was sent to the hospital on Tuesday morning after receiving preliminary care at a local clinic.
Ma said she worked for 15 hours yesterday, treating more than 100 patients. She got up to receive the injured villagers in early morning.