Rickshaw is the most popular form of transportation for tourists in Beijing's hutongs. It not only provides a unique view of Beijing's traditional architecture and lifestyle, but also allows the rickshaw puller to tell the stories of old Beijing.
Every morning at 7 am, 46-year-old Cao Junlai leaves his rented home on his rickshaw to join the rest of the team at Shichahai.The first job of his day is to his vehicle, and inflate the tires. For the next 11 hours, approaching visitors and showing them around the hutongs in the area is his work.
Cao came to Beijing in 2005 after he lost his job in his hometown, Beijing's neighboring Henan province. Confident with his English, Cao became a rickshaw driver at the popular Shichahai scenic area.
Shichahai is famous for its bar streets by the lakeside, where many local residents still live in traditional courtyard-style houses.
Pulling a rickshaw is not as fun as sitting on one. Cao often misses lunch when he is busy, and the job gets tougher in Beijing's biting winter cold and midsummer heat.
Still, Cao is happy with his job. He is satisfied with the monthly 4,000 to 5,000 yuan ($650-815) he earns, and the opportunities to being able to practice his English with foreign tourists.
In the past nine years, Cao has spent his spare time to improve his English and knowledge of Beijing's history and culture. In his eyes, a rickshaw driver does not only offer the tourists a ride, but is also a walking name card of Beijing.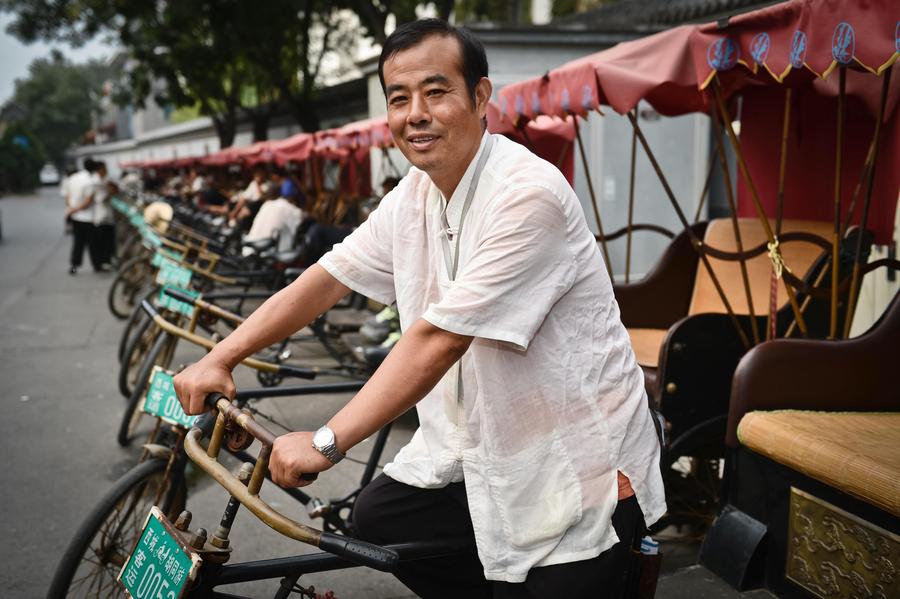 Rickshaw driver Cao Junlai at Shichahai area in Beijing, Sept 12, 2014. [Photo/Xinhua]
| | |
| --- | --- |
| | |
| | Facing change |