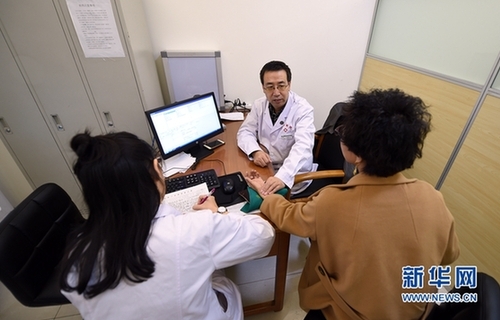 Professor Li Yingcun, vice director of the Dunhuang Institute of Medicine takes a patient's pulse and applies medical science from the Dunhuang manuscripts on March 21. [Photo/Xinhua]
Gansu University of Chinese Medicine in Lanzhou city, capital of Gansu province set up a hospital department focusing on the medical science from Dunhuang manuscripts at the beginning of 2016.
The Dunhuang manuscripts are a cache of important religious and secular documents discovered in the Mogao Grottoes of Dunhuang city, Gansu, in the early 20th century.
The specialized department analyzes medical science theory found in the Dunhuang documents and even employs some of the techniques to treat diseases of the blood, spleen, stomach, liver and respiratory system.
Dunhuang medical science is an important branch of Dunhuang Studies and a significant part of traditional Chinese medicine. Dunhuang Studies refers to the research and analysis of Dunhuang's caves, art, religion and the district's history.
The staff members of the Dunhuang Institute of Medicine at Gansu University of Chinese Medicine have been studying the Dunhuang manuscripts for several years. So far, more than 1,240 prescriptions have been found and around 100 have been applied in academic theory, experiments, teaching and clinical applications.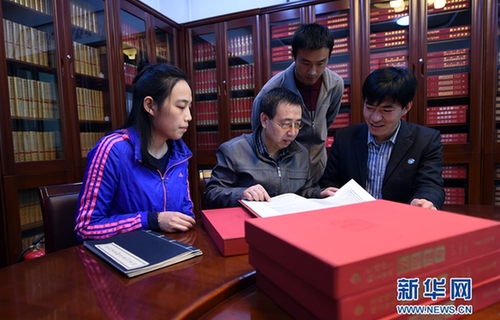 Professor Li Yingcun (L2) studies medicine from the Dunhuang manuscripts, on March 21. [Photo/Xinhua]
Know more about Dunhuang manuscripts
Dunhuang manuscripts are documents found in the Dunhuang Grottoes.
Dating from the 5th to early 11th centuries, the manuscripts include works ranging from history and mathematics to folk songs and dance.
Buddhist manuscripts make up the majority of the religious manuscripts, and other religions such as Daoism, Nestorian Christianity and Manichaeism are also included.
Most of the manuscripts are in Chinese, however there are also texts written in Tibetan, old Uyghur languages, and Hebrew.
The manuscripts are a major resource for academic studies in a wide variety of fields such as history, religious studies, linguistics, and manuscript studies.
Edited by Owen Fishwick