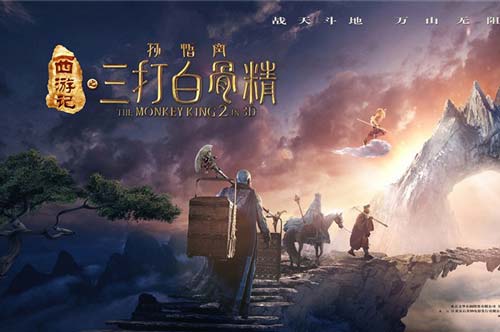 A poster of The Monkey King 2
The hotly-anticipated sequel to 2014's 3D action blockbuster, The Monkey King 1, is set for global release on Feb 8 and much of its production took place in Wuxi's own National Digital Film Industrial Park (Huallywood), the Wuxi Daily reported.
The Monkey King 2 will premier in Beijing on Jan 20 and will be screened across 50 cities and four continents during the upcoming Spring Festival, which begins on Feb 8, making it the first international simultaneous release of a Chinese film around the world.
Shi Juan, general manager of Wuxi Studios, Huallywood's official name, said it's very rare for domestic films to be screened abroad, and when they are it is always on limited release.
The Monkey King 1 was released on Jan 31, 2014 and box office takings of 1.06 billion yuan ($161.12 million). The Monkey King 2 is directed by Zheng Baorui, produced by Filmko Pictures and features the same all-star cast of Guo Fucheng, Gong Li and Feng Shaofeng.
The new film, which cost 450 million yuan ($72.56 million), began shooting in November, 2014 at Huallywood, tells a story of how the Monkey King (Guo Fucheng) defeats the White Skeleton Demon (Gong Li).
During the movie's one-month release, Huallywood's sound stages will be open to the public so that people can see where a lot of the film was made, Shi told reporters.
The park is experiencing quite a boom period as more and more films have reserved its sound stages, mainly due to the availability of high tech equipment.
The park is currently recruiting firms with specialist technologies related to filmmaking, with dozens of US, Canadian, Australian and British firms have already set up shop.
In addition, there is a support industry that provides financial services and auxiliary services, such as securing permits and training talents.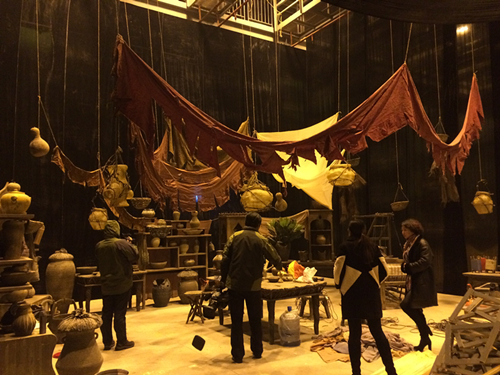 A sound stage of The Monkey King 2 [Photo provided to chinadaily.com.cn]
Wuxi's National Digital Film Industrial Park was established in 2010 as a state-level park, with approval by the National Radio, Film and the TV Bureau. It has been used to shoot more than 300 films.
Many big budget films have used the production facilities of companies based there, such as award-winning special effects company Base FX which supplied more than 400 images for Star Wars – The Force Awakens. Other films that have been produced there include Transformers – Age of Extinction and Mojin – the Lost Legend.