A member of Jilin province's forestry bureau has reported the finding of Siberian tiger tracks near the city of Jiaohe, on Dec 11 at the Shengli forest farm, which is located between the world's two largest Siberian tiger habitats.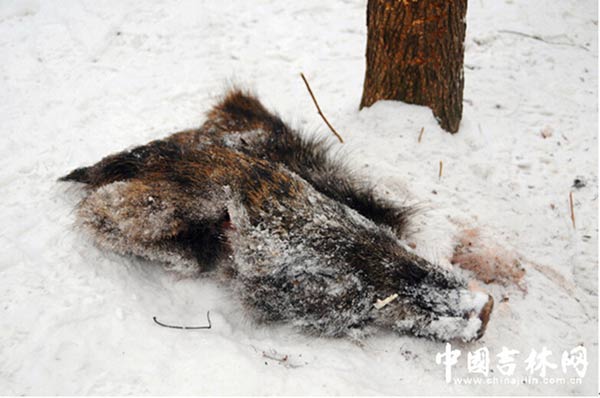 Few remains of a wild boar, in the Shengli forest farm, Jilin province. [Photo/chinajilin.com.cn]
The paw prints were photographed and the bureau says that based on the length of the animal's stride it is about 2 meters tall. Later, rangers who were tracking and monitoring the area around the farm found urine and hair samples, Dec 14-19, and the bodies of two wild boars.
One ranger noted, "The big one [boar] was almost completely eaten, leaving only bones, and the smaller one was half eaten."They also reported finding tracks of roe deer, a favorite food of the tiger.
Wu Zhigang, of the Jilin forest research institute, said that signs of the Siberian tiger in Jilin indicate that the species has increased rapidly in number with 27 already monitored.
Siberian tigers, also known as the Amur or Manchurian tiger, mainly live in eastern Russia, northeast China and the northern part of the Korean Peninsula. Estimates put the number living in the wild at only about 500, with about 12 in neighboring Heilongjiang province.
The forest bureau says it will continue to monitor the Siberian tiger to look for more evidence.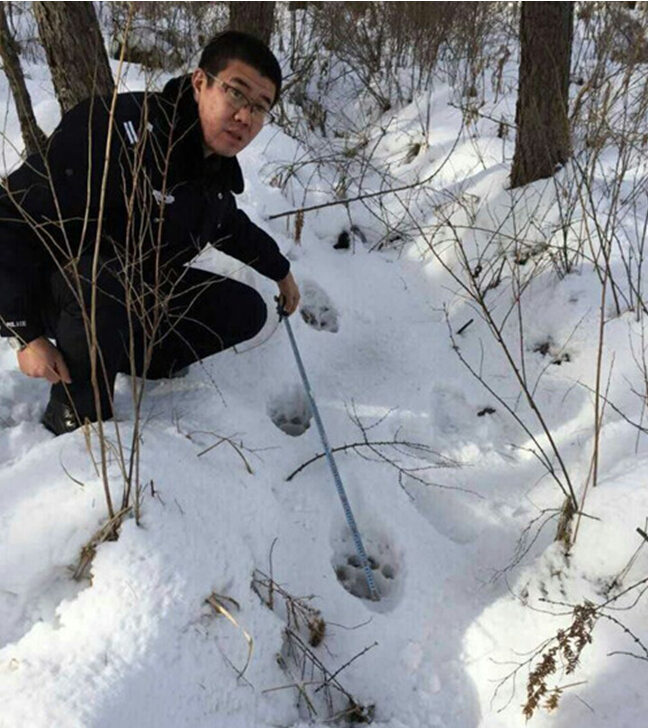 One member of the forest survey team measuring tracks left on the snow.[Photo/chinajilin.com.cn]