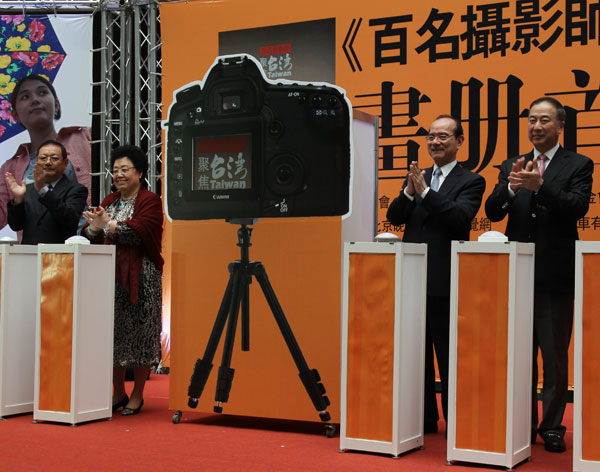 (From right) Zhu Ling, publisher of China Daily, Lin Feng-cheng, vice-chairman of the Kuomintang, Chan Laiwa, founder of Beijing Red Sandalwood Cultural Foundation and Hsu Li-min, a board member of Dongfeng Yulon Motor Co, declare the launch of One Hundred Photographers' Lenses on Taiwan, a photo album that brought together photojournalists from across the Taiwan Straits, in Taipei on Sunday. [Photo by Lu Zhongqiu / China Daily]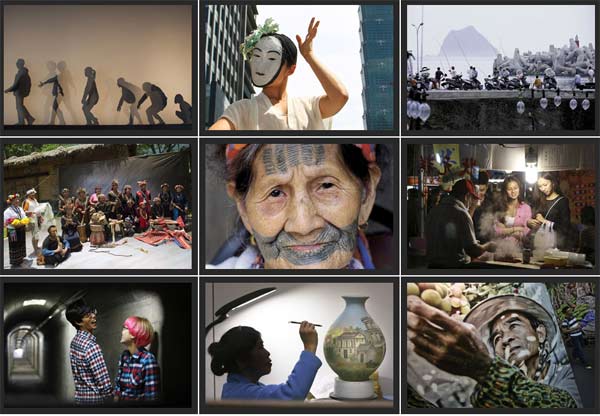 Photos from the album  
Images that capture the imagination
A mesmerizing image adorns the cover of One Hundred Photographers' Lenses on Taiwan.
It features students, or rather their shadows projected onto the background. One, on the right, has a backpack and the last has a ponytail. One person — or possibly two — in the center is brilliantly captured mid-stride. (A fuller version of the image appears inside.)
As Wang Wenlan explains, this photo was taken by Jiang Jian at the entrance to the Taipei Fine Arts Museum where visitors' shadows are projected onto a giant screen. That day, instead of simply entering, a group of students became creative. They posed in various stages of evolution, from ape to man.
"The poses were deliberate, but the photographer was lucky and snapped the image in a moment of pure spontaneity," said Wang, who compiled the collection.
The book offers a kaleidoscope of fascinating glimpses into the fabric of Taiwan society, some ever-changing, some static, and others, like this one, featuring a stillness that was frozen in time by an alert photographer.
Part One of the collection is devoted to holiday celebrations and religious rituals taking place in front of iconic backdrops. Some of the customs, such as putting eggs on rails, will amaze and educate the viewer.
Part Two highlights people in Taiwan at work. The images evoke a bygone era: the maintenance of steam engines in 1959 and rural women picking tea leaves in the morning mist.
Other images portray the unalloyed celebrations following a catch of giant lobsters, and the peddling of areca nuts by sellers in revealing miniskirts. The black-and-white photos enlighten in that they provide a counterpoint to the progress chronicled in the brightly colored images of more recent times.
Part Three celebrates leisure activities, ethnic minorities and dramatic moments in a busy but ostensibly ordinary activity.
Especially riveting is the torrent of humanity on scooters during rush hour, a reminder of the now extinct equivalent scene of a bicycle surge on the Chinese mainland.
Terracotta figures on a subway wall provide a stark contrast to a foreground of blurry passengers, a calculated study of past and present.
Part Four is mostly about culture and education, with remnants of the past strategically hinted at in images of Jinmen Island, a place closer to Xiamen on the mainland than Taiwan and once a hotspot in an era of tension. A tank is half buried in the sand, and a tourist jumps off it as if fleeing the past of tension and violence. The beach has been reclaimed as a place for relaxation and frolicking.
The album closes with the Lantern Festival when a flotilla of paper lanterns are released into the sky, signaling prayers for peace and more good times ahead.
raymondzhou@chinadaily.com.cn