China Daily's latest photo album highlights the creativity of photographers from both sides of the Straits as they capture the intrinsic beauty of the 'Treasure Island'.
One Hundred Photographers' Lenses on Taiwan, China Daily's latest addition to its Focus series, marks a subtle departure from its traditional strength of news photography, "but not by much," says Wang Wenlan, assistant editor-in-chief of China Daily and a renowned photographer in his own right.
"Unlike most pictorial albums that serve a tourist clientele, we do not just include postcard-like pictures of scenery. You had to have people in them to be eligible for consideration," said Wang, who orchestrated the project and selected about 200 photos out of 10,000 considered.
Wang and his team scouted the Internet for candidates, especially those of historical value. Fortunately, his reputation in the field means that he could essentially call up any photographer and ask permission to use their work. "We have also made an effort to represent the best from Taiwan," he noted.
Previous entries in the Focus series were from either major breaking news events, landmark celebrations of sportsmanship or ones that marked major anniversaries.
Some events spring immediately to mind. Hundreds of photojournalists rushed to the scenes of the SARS epidemic in 2003, and the ice storm and earthquake in 2008.
The Beijing Olympics, the Asian Games in Guangzhou and the 60th anniversary of the founding of the People's Republic of China acted like magnets for the best photojournalists.
The shift to Taiwan is not news-driven, but reflects a growing trend of contact between the mainland and the island across the Taiwan Straits where people can now visit each other without any inconvenience — this after decades of political standoff.
As the bond is renewed, people are rediscovering each other. The images in this tome are a testament to the unique combination of familiarity and freshness.
"I have been to Taiwan twice, and many of my photographer friends have also visited," Wang said. "We took many pictures."
These are supplemented in the collection by additions from local photographers who captured dramatic moments, such as the rescue of a person outside a high-rise window and relief supplies being driven through a flooded street.
The best images, Wang believes, are those that depict daily life in Taiwan.
The hustle and bustle of Taipei, the rustic beauty of rural Taiwan where many customs have been preserved, the pursuits of the young, and the lifestyles of ordinary people are all vividly conjured up in these pages.
They may not represent Taiwan in its entirety, but they certainly unveil many enthralling facets of life on what we love to call the "Treasure Island" of Taiwan.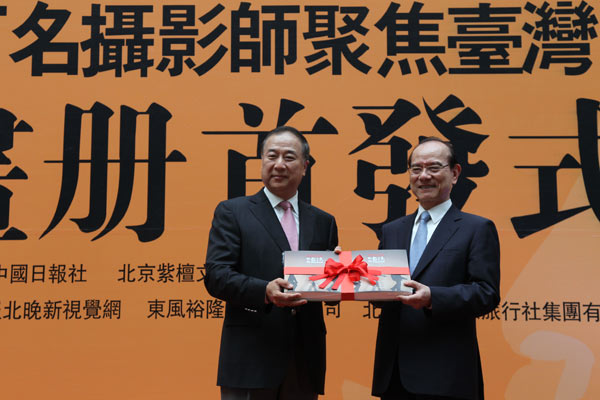 Zhu Ling, publisher of China Daily, presents One Hundred Photographers' Lenses on Taiwan to Lin Feng-cheng, vice-chairman of the Kuomintang, at the launch ceremony of the album in Taipei on Sunday. [Photo by Lu Zhongqiu/China Daily]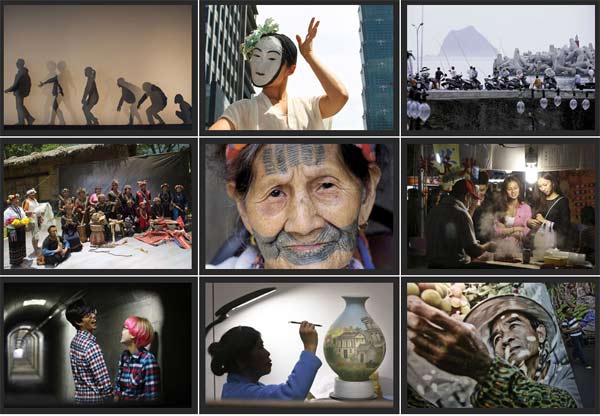 Photos from the album