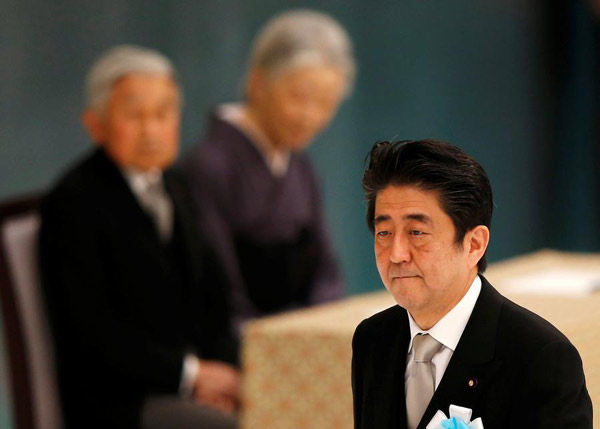 Japan's Prime Minister Shinzo Abe (R) walks past Japan's Emperor Akihito (L) and Empress Michiko during a ceremony marking the 70st anniversary of Japan's unconditional surrender in World War II at Budokan Hall in Tokyo, Japan August 15, 2015. [Photo/Agencies]
Aug 6 and 9 are days of mourning for Hiroshima and Nagasaki. On Aug 6, 1945, the United States dropped an atomic bomb on Hiroshima. Three days later, it dropped a second one on Nagasaki. Japan surrendered in World War II on Aug 15.
The atomic bombs incinerated buildings and people, leaving lifelong physical and psychological scars on the survivors and the cities.
Since being re-elected Japan's prime minister in December 2012, Shinzo Abe has attended the two cities' annual observation days every year. At the latest gathering in Hiroshima, he said Japan will "continue to make ... efforts to bring about a world free of nuclear weapons by calling for cooperation from both nuclear weapons and non-nuclear weapons' states".
But his acts belie his words. Along with Britain, France and the Republic of Korea-all the United States allies-Japan has been privately lobbying the White House to not adopt a policy of "no first use" of nuclear weapons that US President Barack Obama is said to be considering.
In fact, Obama could announce the change in US nuclear policy in September when he attends the UN General Assembly for the last time as US president.
The Japanese media reported that Abe personally intimated Admiral Harry Harris Jr., the head of the US Pacific Command, of Japan's concern about US president's nuclear move, arguing that if Obama declares a no first use policy, deterrence against countries such as the Democratic People's Republic of Korea will weaken and the risks of conflict will rise.
The Janus-faced Abe has angered Japanese atomic bomb survivors, who say his opposition to Obama's move is counterproductive to global efforts to eliminate nuclear weapons.
The mayors of Hiroshima and Nagasaki have sent a letter to Obama supporting the US' potential nuclear policy change, saying the move would "mark an important step toward realizing a world without nuclear weapons".
In an open letter calling for Japan to support a US no first use policy, 14 US physicists and scholars said the path to a safer world remain blocked as long as the US refuses to make this change.
Putting itself under the US nuclear umbrella, Japan has not supported a no first use policy. Japanese newspaper Mainichi Shimbun criticized the Abe administration for going against the trend of nuclear disarmament. And the Asahi Shimbun called the nuclear deterrence theory "a relic of the Cold War period".
"The government of Japan has not ruled out a possible use of nuclear weapons by the US. That is broadly at odds with the sentiment of the Japanese public, which does not want a repeat of the ravages of a nuclear attack," the Asahi Shimbun said.
This newspaper appealed to the Abe administration to seek a security policy that does not rely on the US nuclear umbrella and begin holding talks with Washington to achieve that goal.
Reading a peace declaration on Aug 9, Nagasaki Mayor Tomihisa Taue appealed to the Japanese government to play a leading role in the efforts to create a nuclear weapons-free zone, a concept that, in his words, embodies mankind's wisdom.
The Asahi Shimbun's advice to Abe, who stood beside Obama in Hiroshima in May: cooperate actively with the US president in his bid to promote the no first use policy.
Yet Abe has made himself a case study in hypocrisy.
The author is China Daily Tokyo bureau chief. caihong@chinadaily.com.cn