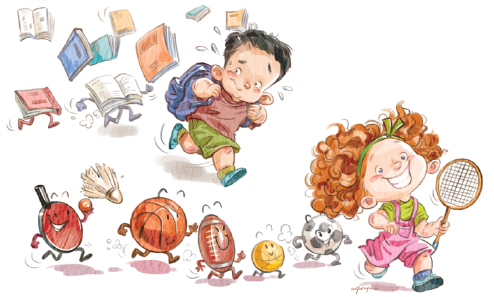 Li Min / China Daily
The United States has won the highest number of medals at the Rio Olympic Games. The consistent performance of the US at the Olympics through the years should give other countries reason to reflect what they should do to improve their performance at the next games.
When one looks at how permeating the sports culture is in the US, its success in the Olympics seems natural. I have spent most of my career working in US universities, where one of my first culture shocks was to find that some American students select schools based on sports, while most, if not all, Chinese students' choices are based on academic ranking.
The violent behavior of some athletes-for example, when four US swimmers got drunk and vandalized a gas station in Rio and cooked up a story to save themselves-doesn't take away the importance of sports in American people's lives.
In Syracuse, we had great basketball teams and the legendary Coach Jim Boeheim. In West Virginia, we had "coal bowl", games between West Virginia University and Marshall University from the same state. Sports culture is everywhere.
When I moved to Oklahoma, I was culturally sandwiched between two opposing but equally good (American) football teams: Oklahoma State University and University of Oklahoma.
The fascination with college sports has also cascaded down to K12 schools. In Oklahoma, my children sometimes had "jersey days", when students were permitted to wear jerseys for the team of their choice, which often defaulted to OU or OSU.
In southern US, where I now live, if your children don't participate in any sports, it raises eyebrows, especially among parents in high school. The sheer number of teams even a small town boasts of really amazes me. They are formed by schools, clubs and generally parents, who push their children to practice and play, just as we Chinese parents push our children to drill in math or pound at the piano.
I am increasingly realizing why sports matters in a person's growth. While the US has easily accessible neighborhood swimming pools, tennis courts in public parks and basketball racks in the backyard, Chinese schools are lucky if they do not constantly have Mr Holland's Opus moments in music, sports and other "non-essentials".
These are dismissed as subjects which are not tied to the college entrance examination that assess mastery of knowledge in subjects such as Chinese, English, math, physics, chemistry, biology, history, geography and political science. One does have to take physical education, but it is usually measured in pass/not pass grading.
Additionally, there is zero-sum thinking among Chinese that those who have able bodies often have incapable minds, which cannot be further from the truth. More often than not, bodies fuel minds. In John Medina's book Brain Rules, the first rule is that "exercise boosts brain power".
Intellectual development is but one of the many developments a person needs. Over the years I have had many opportunities to learn from American parents and educators why they put children through sports. It is not just for the sensation of winning. They want their children to go through some type of sports to acquire life skills. Students playing sports learn to take orders from coaches, coordinate efforts with teammates, work to achieve tangible goals, sustain setbacks and failures, and resolve conflicts when they come.
These are skills to be honed overtime and will be used most of the time in later life.
If Chinese parents focus only on test-driven skills, they cannot prepare their children for many other races in life.
The author is a US-based author and columnist.