Editor's note: As many Chinese parents have tried to give their children a head start, online education services, with their relatively cheap prices, are mushrooming across the country. What do you think? Should this mode of teaching be encouraged?
TedM (UK)
Online education is not new. It has been found effective in many countries where access to schools is difficult. It is very effective where it is used properly and provided by reputable and professional companies and teachers. It lacks the opportunity for social learning of course, but in most systems there are weekend, summer and winter "camps" where students can arrange to meet and interact with others as part of the courses. Such education is valuable in China for remote learning in inaccessible regions.
In other countries, companies offering online learning have to be inspected and certified as reputable and to ensure they meet required standards. Unfortunately China lacks this and there are now many companies and individuals who only want to make money from the inadequate and poor courses they offer. This has always been so here with private schools teaching very bad English, but now the internet has opened this up to a virus of cheaters.
Technology is a tool for professional teachers to use, and not a solution. Teaching is a profession and should not be just a poorly paid job, as it is in China. Turn teaching into a proper profession instead of spending money on vast amounts of technology.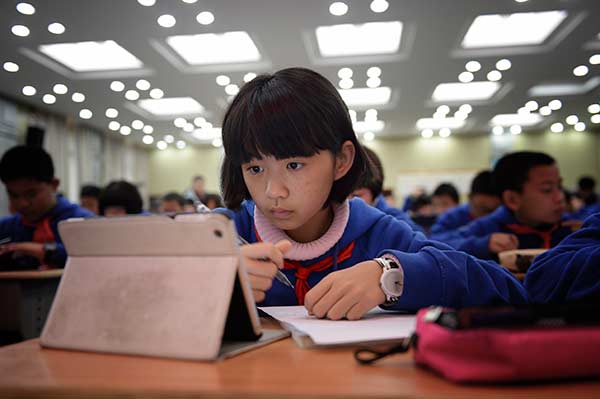 A student learns from an online open course in a middle school in Changsha, Hunan province on Nov 28, 2014. [Photo/CFP]