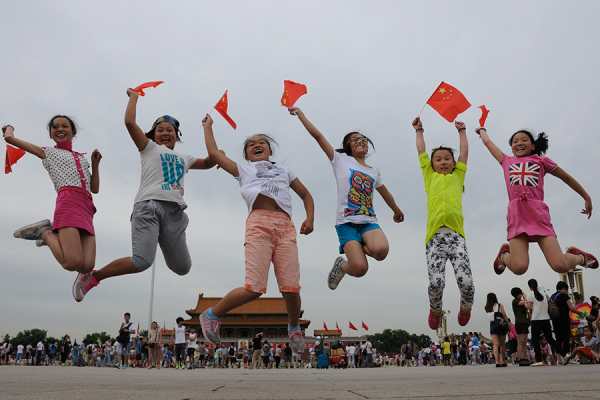 Pupils from across China wave the national flag at Tian'anmen Square during their summer camp in Beijing, July 23, 2014. [Photo/VCG]
A vocational school in Nanning, capital city of South China's Guangxi Zhuang autonomous region, said it does not have enough accommodation for students admitted to the institution this semester, because their number is "more than expected". China Youth Daily commented on Thursday:
Although the Nanning vocational school has promised to turn some offices into temporary dormitories for the "extra" students, that does not alter the fact that it knowingly accepted more than 2,000 admissions while it only has some 900 dormitory beds.
This, to some extent, explains why the school tried to get a so-called confirmation fee from the students. Such a fee has exposed the dark side of the country's vocational education system. As a qualified vocational school, the one in Nanning is supposed to base its recruitment on its own capacity to admit students. It can only implement its enrollment plan after the local educational authorities approve it, and it is not permitted to make adjustments to it afterwards.
Apparently, the Nanning school failed to carry out its obligations; it even went further by collecting an unauthorized fee from students, which is forbidden by the relevant regulations.
Unlike the State-run universities, vocational colleges are less attractive and thus they issue admission notices to more students than they can accommodate to ensure they have a sufficient number to enroll.
But that does not mean vocational colleges can design their recruitment plan without consulting the local education authorities. That the Nanning vocational college does not have enough beds for the enrolled students, in essence, has a lot to do with the supervisory loopholes in the student recruitment system.