Xu Yuyu, a college-bound student, died after suffering a sudden cardiac arrest on Sunday after funds her family had raised for her tuition fees were swindled in a telephone scam.
The 18-year-old girl from Linyi, Shandong province, scored 568 points on her college entrance exam this year and was admitted to Nanjing University of Posts and Telecommunications.
On Aug 19, Xu received a phone call from an unknown person notifying her that she was due to receive 2,600 yuan ($390) in student funding. She had received an official phone call from the education authority the day before, so her family did not question the authenticity of the second call.
Following the call, Xu wired a 9,900-yuan "activation fee" into the scammer's bank account, hoping the money would appear in her student account, but it never did.
After discovering they had been cheated, the family immediately reported the incident to the police, but Xu was said to be devastated. On their way home, she suddenly fainted and despite doctors' best efforts to revive her, she passed away.
According to reports, Xu was healthy.
Her family is poor and they depend solely on her father's income. They had to save for almost a year to raise funds for her tuition fees.
"She never misspent her money and always saved what little she had," said Li Ziyun, Xu's mother. "The scammer has taken my baby girl!"
Pan Baojian, Xu's class adviser, expressed regret over losing a great student. "She is outgoing, well-mannered and always on top of her studies. It is a shame she passed away this early."
An investigation into the case is ongoing.
With admission season underway, telephone scams have spiked recently and police have warned college-bound students to be more vigilant.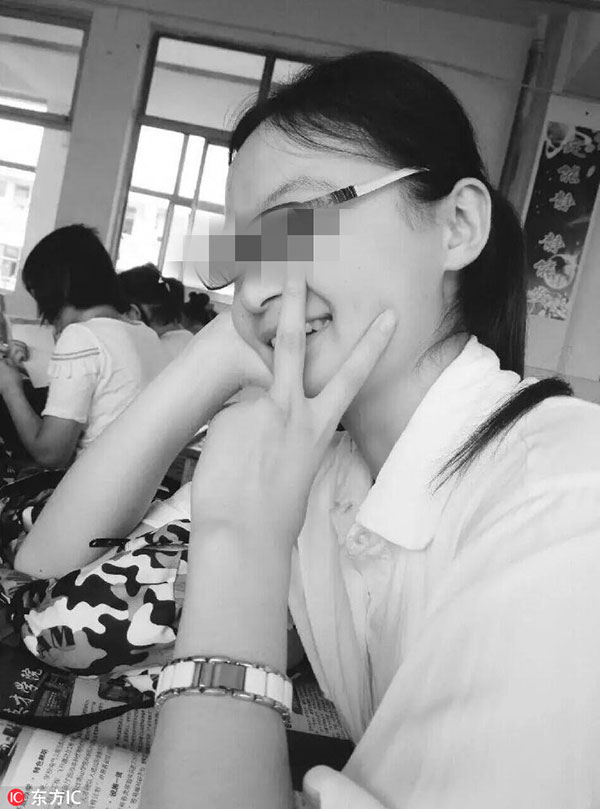 Xu Yuyu [Photo/IC]