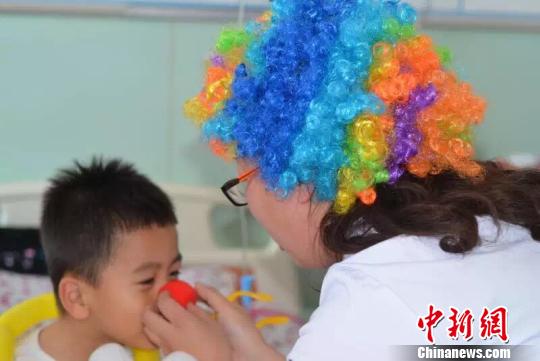 A doctor clown plays with a patient. [Photo/chinanews.com]
A team of volunteers has been working in Shanxi for one year in which participants dress up as cartoon characters to entertain the sick in hospitals, reported chinanews.com on Monday.
The team called clown doctors, the first volunteer team, has grown from just eight participants to 500 in just one year, and helped thousands of people who were ill.
The volunteers dress up as popular cartoon characters like panda, Superman, Spider-Man, clowns that Chinese children love, to ease the suffering of sick children.
Chen Chen, a doctor in Taiyuan, learned about the public welfare program "clown doctors" when he went to Italy for further studies in 2015 and soon launched one in China. The program is supported by Shanxi Youth Federation.
In August, clown doctors made their debut in maternal and child care service centers, making an unexpected positive influence on the children.
Clown doctors are now widely used as a program in health care facilities in western countries involving visits from specially trained clowns.
The visits to hospitals have shown to help in lifting patients mood with the positive power of hope and humor.
Chen Chen said the clown doctors will help patients feel less anxious and tense.
All the volunteers will be trained in first aid, painting, magic, dance and other skills.
"Clown doctors have three goals: entertaining, healing and humanistic care," said Li Huarong, chief of the clown doctors' team.
He said the clown doctors won't be just funny amateur clowns as they will improve the service in details to help more people.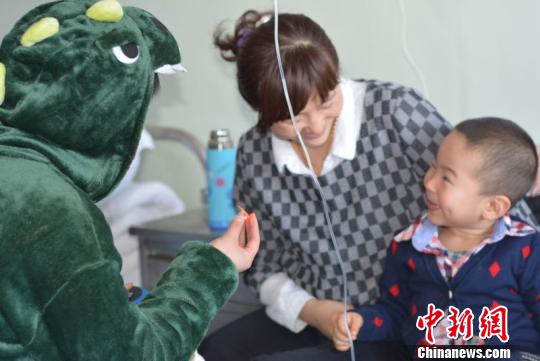 A volunteer dressed up as a dinosaur cheers up a boy. [Photo/chinanews.com]