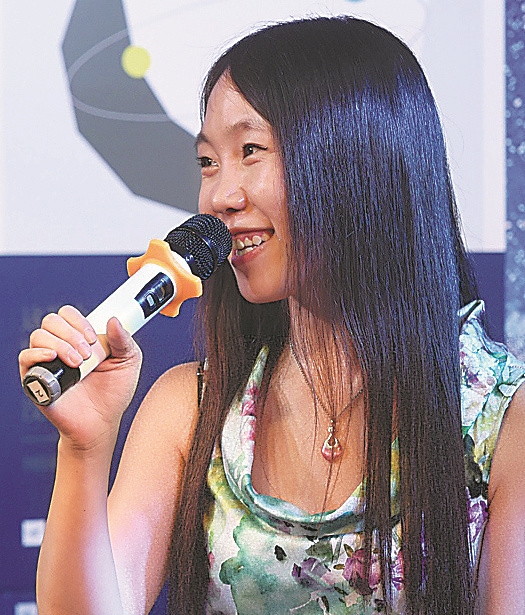 Hao Jingfang, the winner of this year's Hugo Award, speaks in Beijing in July. Luo Xiaoguang / Xinhua
Science-fiction author Hao Jingfang became the first Chinese woman to win a Hugo Award on Sunday, beating best-selling horror and fantasy writer Stephen King in the best novelette category.
The 32-year-old from Tianjin received the prize for Folding Beijing, in which she depicts the Chinese capital as a city divided by social class.
"My story suggests a possibility for the future and also proposes a solution. ... In my story, the future is brighter than we thought, and I hope it is even better," Hao said when accepting her award at the Kansas City Convention Center Grand Ballroom.
She said she was not confident about winning and joked that she had been planning to attend the Hugo losers' party after the ceremony. "Sci-fi writers always consider all possibilities," she added.
Her win comes a year after Liu Cixin won a Hugo for his novel The Three-Body Problem. He was the first Chinese author to win the prize.
In Folding Beijing, the city is separated into three areas, and "the residents of First Space see the extra soil as a part of their privilege", Hao said of her story, which was translated by Ken Liu and published last year by Uncanny magazine.
At an earlier book event in Beijing, she said the story is about the societal and wealth gaps that she has observed in her own life.
2015 Hugo winner Liu told China Daily that he thinks Hao's stories convey warmth and a unique color like "golden sunlight".
He believes the growing global acceptance of Chinese sci-fi stories is thanks to experienced translators like Ken Liu, who promote Chinese works, and the stronger presence of Chinese culture as a whole.
The author cited the success of Nobel laureate Mo Yan and Cao Wenxuan, who on Saturday accepted the Hans Christian Andersen Award for children's literature in New Zealand.
Eric Abrahamsen of Paper Republic, which translates and publishes Chinese literature, said China's younger generation of sci-fi writers are showing great creativity.
"Sci-fi readers worldwide just want to read good stories, and Chinese authors are presenting those," he said.
Hao said she originally wanted to be a scientist. She began writing sci-fi stories after graduating with a degree in physics from Tsinghua University in 2006. She went on to conduct macroeconomy research for her doctoral degree, and since 2013 has worked at the China Development Research Foundation.
Da Shu, her editor at Jiuzhi Tianda Publishing, which has published a novel and two collections of novellas by Hao, said her success in the Hugo Awards was a pleasant surprise.