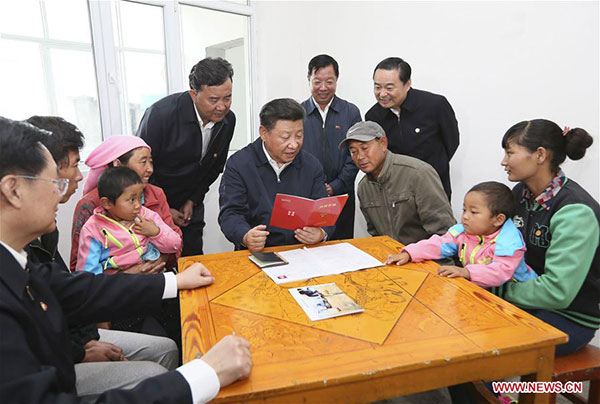 Chinese President Xi Jinping learns about implementation of poverty alleviation measures at the home of villager Lyu Youjin in Wushi Township of Huzhu Tu Autonomous County in Haidong, Qinghai province, Aug 23, 2016. Xi made an inspection tour in Qinghai from Aug 22 to 24. [Photo/Xinhua]
XINING -- President Xi Jinping has declared that protection of the ecosystem is "the most important foundation" of sustainable development.
Xi, also general secretary of the Communist Party of China (CPC) Central Committee, was speaking during a tour of the northwestern province of Qinghai Monday through Wednesday.
Describing the region's ecosystem as its "biggest merit, responsibility and potential," Xi said that measures must be taken to ensure that economic, social and environmental development proceed hand-in-hand.
Speaking with local officials, the President spoke of his desire for Qinghai to be a model of eco-friendly development, circular economy and ethnic solidarity.
Maintaining healthy development of the economy is a major task for the whole party, said Xi. He urged using new concepts to guide development and making efforts to address structural and mechanism issues and problems that hinder development.
Supply-side structural reform is the main thread for economic development and economic work at present and a period to come, said Xi,urging efforts to optimize the supply of products and services and raise the overall quality and efficiency of the supply chain.
Qinghai shoulders the important responsibility to protect the Sanjiangyuan region (the source of China's three major rivers), Xi said.
He ordered coordinated implementation of projects such as energy conservation and emission reduction, beautiful cities and countryside, natural reserves, ecological protection around the Qinghai Lake and desertification control, and gradually returning arable land to grassland and forest.
During the tour, Xi visited the Qinghai environmental monitoring center.
At the center, he watched real-time monitoring of the source of the Yellow River, a Qinghai-Tibet Railway bridge and other locations, while chatting with center staff.
Speaking through the video phone system, Xi urged local people of various ethnic groups to jointly protect their lakes, grassland, rivers and wildlife.
Visiting a solar power company in Xining, Xi saw a solar cell production line and asked about various aspects of the production process.
Speaking highly of Qinghai's accomplishments in clean energy, he said good planning, policy support and guidance are vital to the orderly development of the photovoltaic power industry.
He asked state-owned enterprises to take the lead in innovation, produce more and better products and play a bigger role in leading innovation-driven development.
Xi visited Chaerhan Salt Lake in Qaidam Basin, which is China's biggest salt lake. The region has been making use of the lake to develop its salination industry since the 1950s.
On the lakeside wharf, Xi was briefed on the development of circular economy in the area. He said the Chaerhan boasts the most important of Qinghai's resources and a strategic resource for the whole country.
Xi spoke of the need to balance exploitation and protection of resources and to create industrial processes, techniques and skills featuring low consumption, fewer emmissions and high returns.
In Changjiangyuan Village, Xi was warmly welcomed by Tibetan villagers who moved there in 2004, away from the sources of the Yangtze, Yellow and Lancang rivers. Protection of the sources of the three rivers involve the relocation of people formerly residing in those places.
In a villager's house, Xi was delighted to see that the villagers' standard of living was relatively high, enjoying stable income, basic health insurance and old-age insurance.