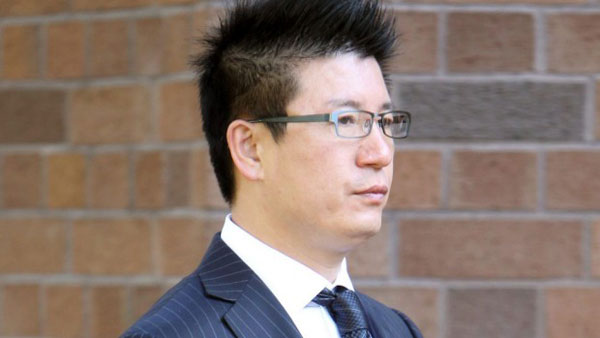 William Yan, bornYong Ming Yan. [File Photo/Agencies]
A Chinese millionaire with New Zealand citizenship and three other people have been ordered to hand over 42.85 million NZ dollars ($31.2 million) to the New Zealand and Chinese governments to settle money laundering charges.
The New Zealand Police said Tuesday that a court order against controversial millionaire William Yan and Wei You, and two of Yan's acquaintances, was the single largest court-ordered forfeiture ever in New Zealand.
It was also the first that related to crimes alleged to have occurred in China, said a statement from the Police.
The activity underlying the forfeiture orders was alleged money laundering and the settlement was full and final without any admission of criminal or civil liability.
The proceedings against Yan and You began in August 2014, when police officers raided their luxury penthouse apartment in the largest city of Auckland.
Restraining orders were obtained over assets associated with the couple, including the apartment, several luxury vehicles and substantial shareholdings.
Related proceedings were initiated in December 2013 against Yingzi Zeng and Shui Yong Huang, who were associates of Yan, said the statement.
They were alleged to have assisted in money laundering and property associated with them was restrained, including three Auckland properties, a Porsche and Maserati, and more than 4.5 million NZ dollars ($3.27 million) in bank funds.
Once the settlement sum was paid, the restrained properties, vehicles, shareholdings and third party assets would be released, said the statement.
The settlement followed a complex three-year investigation focusing on money laundering of large sums of funds allegedly derived from a series of alleged frauds perpetrated in China from 1999 to 2001.
"This is a significant success for New Zealand Police," Detective Inspector Paul Hampton said in the statement.
"The outcome in this case reflects the effective working relationship between Chinese and New Zealand law enforcement agencies."
The next process would be determining how the recovered monies would be shared between the New Zealand and Chinese governments.
The court order was made under the Criminal Proceeds (Recovery) Act, which essentially forces someone to prove how an asset was paid for - even if they were acquitted or criminal charges are not laid.
Yan - also previously known as Bill Liu, Yang Liu and Yong Ming Yan - reportedly had a reputation for spending millions in Auckland's biggest casino.
Yan stood trial in the High Court at Auckland in May 2012 after pleading not guilty to five charges relating to false declarations on immigration and citizenship papers. Justice Timothy Brewer found him not guilty despite saying the evidence put before him "proves a situation that is highly suspicious."
Yan has been a permanent resident in New Zealand since 2002. In 2005, he applied for citizenship, but this was opposed by the Department of Internal Affairs because his true identity was not known.
He was then granted citizenship by then Internal Affairs Minister Shane Jones against the advice of officials.
In June 2005, Chinese authorities reportedly posted a "red notice" with Interpol, claiming Yan was born Yong Ming Yan and stole the identity of Yang Liu in 1999, obtaining two false passports. He was wanted for embezzlement.