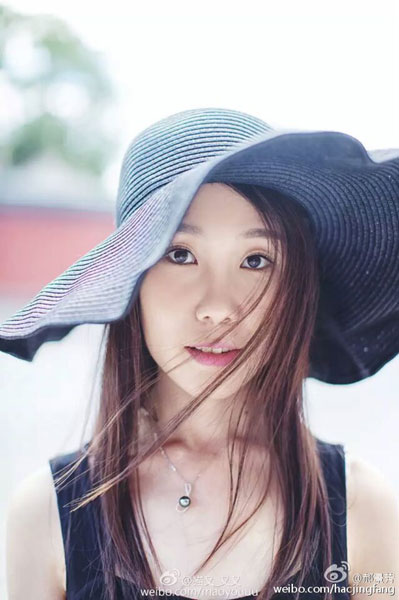 Hao Jingfang, the winner of this year's Hugo Award for the Best Novolette for her short science fiction, Folding Beijing, on Aur 20. [Photo / Weibo]
On Aug 20, Chinese writer Hao Jingfang was declared the winner of this year's Hugo Award for Best Novelette for her short science fiction, Folding Beijing. Last year, the Los Angeles-based World Science Fiction Society had bestowed the Hugo Award for Best Novel to another Chinese writer, Liu Cixin, for The Three Body Problem.
Two Hugo awards in two years is by any means a great achievement because science fiction is not a genre in which Chinese writers excel. In fact, science fiction writing has almost come to a halt in China.
Only four major science fiction magazines are published in the country, with Science Fiction World being the most popular with a circulation of 300,000. That number may seem impressive, but actually is small given China's population of 1.4 billion. Besides, the combined circulation of the other three magazines is so small that only a few people have heard of them.
In comparison, even though the American magazine Analog Science Fiction and Fact has a circulation of just over 100,000, it is only one of the many such magazines with similar circulation figures. Of course, the market for science fiction is much bigger in the West than in China.
Moreover, Chinese science fiction writers and their works both are small in numbers. On the amazon.cn list of 10 best-selling science fiction novels in the Chinese language, The Three Body Problem and Folding Beijing are the only two by Chinese authors, with the rest being translations of foreign writers' works.
The awkward situation science fiction writers face in China has much to do with the past. For long, science fiction was mixed with popular science reading materials and its target readers were children. In fact, Ye Yonglie, one of the best science fiction writers in the late 1980s and early 1990s, is popularly known as a "writer of children's literature" because his science fiction works are mostly for children. And many bookstores keep science fiction works in the children's literature section in the belief they are meant for children.
Another factor hindering the development of science fiction writing in China is lack of support from related sectors. After The Martian was released last November, the novel on which the movie is based became a bestseller and its author Andy Weir famous. But seldom has any Chinese science fiction work been made into a movie.
That's the reason why Liu and Hao deserve greater praise for their efforts. By combining the real life with the imaginary, the two have infused a breath of fresh air into the science fiction genre and widened its readership to include adults.
Hao's Folding Beijing depicts a city divided into three parts where residents take turns to enjoy life, reminding readers of the widening social divide across the world. In Liu's The Three Body Problem, lack of trust between different races in the universe is similar to the one that afflicts people on Earth. Their works are science fictions, no doubt, but raise many pertinent questions about human society and international relations.
That's the future Chinese science fiction writers should look at-reflecting real life in imaginary worlds-to attract more readers.
Another positive trend in Chinese science fiction works is the development of multiple products. A Chinese movie company bought the copyright of The Three Body Problem from Liu last year and the movie is expected to hit the screens in 2017. Plus a play based on the novel has been a huge success in Shanghai. Such ventures should give a fillip to science fiction writers in China, and we hope the movie and play based on Liu's novel are just the right start.
The author is a writer with China Daily. zhangzhouxiang@chinadaily.com.cn