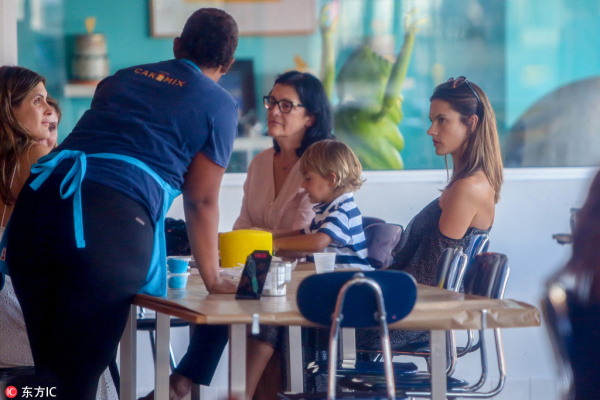 Alessandra Ambrosio takes Anja's to lunch at The Ivy in West Hollywood to celebrate her 8th birthday with some friends. Anja held tight to her mothers hand as they left the popular LA eatery and headed to Duff's Cakemix in West Hollywood for a self made snack.[Photo/IC]
A villager in Nanba town, Xuanhan county in Southwest China's Sichuan province, was fined 650 yuan ($100) for hosting a birthday celebration for his 87-year-old mother on Aug 10. To curb the tradition of birthday feasts for local villagers who are also Party members, the township government earlier introduced a regulation that they could only hold such celebrations on their parents' 80th and 90th birthdays. Beijing News commented on Thursday:
It is silly to charge 650 yuan to alert the villagers in the village about the regulation banning most birthday celebrations.
The township government has no right to limit the rights of the villagers in this way, and there is no legal basis for the punitive charge.
Villagers shouldn't be given penalties for celebrating birthdays or staging funerals regardless of the existing regulations, because birthdays and funerals are both big events in people's lives.
Instead, what needs to be considered are: Were any public funds involved? Was there any misuse of power?
Extravagant feasting using public money is a vicious habit that needs to be curbed. But it should also be borne in mind that as long as there is no violation of public interests and the rights of others, people have the right to spend as much as they want on birthdays and funerals. As long as it remains within the law, people's drinking and eating should not be regulated.
The local government should think of other ways to educate or persuade the villagers to cultivate new habits, instead of banning their existing ones.