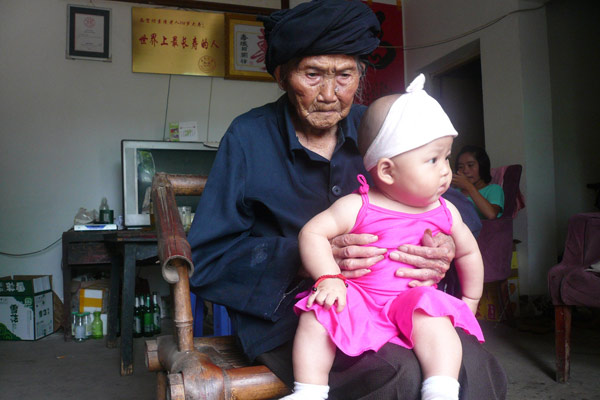 Fu Suqing carries her great-great-granddaughter at home in Shuangliu county, Chengdu city, Southwest China's Sichuan province, July 24, 2015. [Photo/IC]
Fu Suqing from Chengdu city in Southwest China's Sichuan province just celebrated her 119th birthday on Sunday, Chengdu Economic Daily reported.
Fu was identified as the world's oldest woman respectively in 2013 and 2016 by London-based Carrying The Flag World Records, which is devoted to recording world records.
"As usual, relatives and friends came to celebrate my great-grandmother's birthday," said Leng Ting.
Leng estimated that Fu's family has roughly 68 people, including Fu's youngest great-great-grandson, who was born recently. "In the last two years, Fu has had five great-great-grandchildren, and the oldest of them was 23 years old," said Leng.
Despite the hot weather, with a kerchief on her head, Fu wore a long sleeve shirt and trousers, red stockings and cotton shoes. "Please carry me to somewhere cool," Fu said to her family members after waking up.
"Nowadays, she always sleeps for a while, then sits for a moment, and then goes back to sleep," said 83-year-old Xu Shuhua, Fu's second daughter.
According to Xu, in recent months, Fu lost some weight and spent most of her time sleeping. Even during the short period when she sat in the living room, Fu closed her eyes and calmed her mind.
Besides, Fu's eating habits have also changed a lot. "She ate less than before. Today she just had spoons of soup," said Xu, who told Chengdu Economic Daily that her mother used to enjoy twice-cooked pork and a bowl of rice almost every meal.
However, these days Fu mostly has steamed pumpkins and sweet potatoes, and thoroughly braised green beans. Also, Fu prefers boiled water to stewed soup, said Xu.
According to a health examination in July, Fu's blood pressure is in the normal range, that is, between 119 and 74. What's more, Fu's cell detection results are even better than a normal young man.
"A few years ago, my great-grandmother was in such good health that she could bundle up firewood, sweep the yard, and even reach navel oranges on trees with her stick," said Leng.