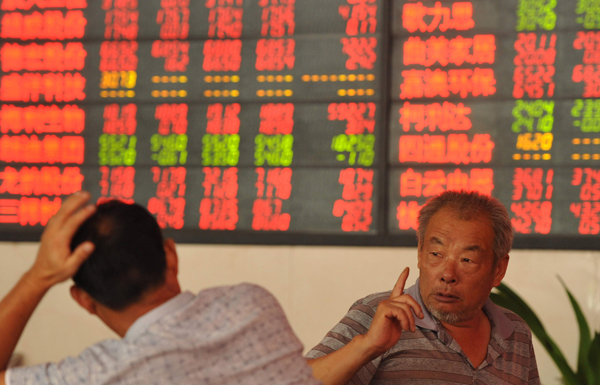 Investors talk about stocks in a securities trading center on Tuesday in Fuyang, a city in eastern China's Anhui province. QI WEN/FOR CHINA DAILY
Believe it or not, I read The True Story of Ah-Q, by renowned contemporary Chinese writer Lu Xun, not as a literary work, but a guidebook to successful investment, either in commodities, stocks or funds.
The game of wealth is, in essence, all about human psychology. In order to survive in the money market, you not only need to have trading techniques, analytical skills or self discipline, but also exceptionally strong will power.
You must remain calm and resist the temptation to sell before your stocks peak. You must remain unfazed even amid drastic stock falls during corrections in order not to be scared out of the game.
And most often, you need to laugh off your mistakes and losses so that you can always bounce back from your lows. The ease with which you can poke fun at yourself, to make a mockery of your own follies, no matter how hard you were defeated, is a secret you must learn to remain unbeatable in the market.
You need to look no further than Ah Q for inspiration. The main character of the short story, published in 1921, is a household name in China for his ability to always transform defeat into spiritual victory.
Ah Q is always the winner. After losing a fortune, he would slap himself in the face as if he was hitting at an imaginary opponent to let go of the anger. When he is beaten by someone, he would think it is as if he was beaten by his own son, and lament "what the world is coming to nowadays".
Just by changing his mode of thinking, Ah Q can find hope from despair, and turn adversities to his advantage.
This mindset is exactly what you need for investment.
But to know the theory is one thing, to be able to apply it to trading activities is another.
Ever since I started dabbling in stocks more than 15 years ago, I have tried to see my losses as tuition fees I have to pay for a course on how to get rich quick.
But as the expenses keep increasing, to the extent that even possible profits to be made are unlikely to make up for a fraction of my financial input, it is hard for me to persuade myself to continue with this costly course.
After a lot of soul-searching, I found the gist of the problem: my ego. For too long I had been too self-centered, concentrating too much on personal gains and losses rather than public good. Life should not be about what you can get, but also what you can give. To find something bigger than myself, I had to break down the walls of selfishness and self-pity, and set my sights on a broader horizon.
And it worked.
Years ago I started to invest in a fund that tracks the benchmark Shanghai Composite Index. At times after the 2008 global financial crisis, the index dropped to such lows that they suggested an imminent meltdown. Yet instead of cutting my losses, I put in more money, doubling or even tripling my initial investment. I was emboldened by the thought that even if the market crashed with my personal wealth all gone, I could still have something to relish: I was doing public good playing the role of the terminator of a market that really sucks.
Strange idea, wasn't it? But it sustained me through the worst days for the market until it rebounded last year, allowing me to come out with profits.
Now I have built a fund portfolio related to crude oil, whose price has dropped from more than $100 a barrel in 2014 to around $45 at present, and I keep pumping my spare money into it.
Am I afraid of losing heavily if oil prices crash due to much-touted advent of an era of new energy? Then wouldn't it be good news for humankind, and especially Beijing, which has too often fallen victim to smog?
No matter what happens, with Ah Q's mindset I can always stay secure and satisfied-profits guaranteed or not.