Stock investors must rein in greed and fear or face ruin
Updated: 2015-07-17 08:06
By Wang Shengwei(HK Edition)
| | | | | | | | | |
| --- | --- | --- | --- | --- | --- | --- | --- | --- |
|   | | Print | | Mail | | Large Medium  Small | 分享按钮 | 0 |
An old saying on Wall Street goes like this: The rise and fall of the stock market may be simplified as manifestations of two human emotions, greed and fear. While a market bubble can be created out of greed by investors' frenzied buying, its bursting is characterized by panic selling out of fear.
The mainland stock market has recently gone through such a boom and bust cycle, leaving a profound loss on investors' portfolios. Investors must have forgotten an important lesson from Warren Buffet: To invest for the long term by avoiding the market's emotion. Do not be biased by the losses felt by those inexperienced investors hit by the bust.
Historically, eight major world market collapses have been recorded between the 1929 Great Depression and the 2008 subprime financial crisis. But none can compare with the speed of the fall of the Shanghai Composite Index (SCI) by about 32 percent in just 27 days, from its top (5,166.35) on June 12 to its bottom on July 8 (3,502.95).
How did this happen and why so swiftly?
We must recall that since 2012, after the mainland's real estate market cooled down, people have turned to the stock market as an investment opportunity with higher returns than bank deposits and treasury bonds. Mainland stock regulators also hoped that slow but steady market gains would revive State-owned enterprises, allow enterprises to get rid of huge debts, and attract more foreign investment.
Between June 2014 and June 2015, despite an economic slowdown, the SCI rose by 150 percent. The bull market sucked in tens of thousands of small investors who had never bought stocks. Seeing other people's gains, a lot more people started buying stocks with borrowed money and trading on margin (TOM).
This is the main underlying reason why irrational exuberance took hold this year. Margin lending expanded fivefold to over $600 billion in June 2015. TOM was formerly a strictly regulated practice and has only been gradually relaxed over the past five years. And when the market started to fall due to profit taking or short selling in stocks or stock index futures (short selling in stock index futures can be repeated on the same day and with high leverage; this time the fall started with the stock index futures, followed by the drop of the SCI), margin calls forced the investors to sell their stocks, resulting in panic selling.
The central government responded by pouring in money and intensifying administrative procedures to rescue the market. The relief rally finally came on July 9 as the Ministry of Public Security started to investigate malicious short sellers, and as the China Banking Regulatory Commission and the State-owned Assets Supervision and Administration Commission of the State Council joined hands to rescue the market. On that day, all stocks were up by the daily limit of 10 percent, posting the biggest daily gain in six years, and the rally continued on July 10 and 13 to SCI 3,970.39.
Some observers worry that the mainland market crash and enormous volatility may delay the expected year-end Shenzhen-Hong Kong stock link and RMB internationalization, impacting negatively on Hong Kong's economic future. But Hong Kong's sound financial system not only spares the city from the turmoil that hit the mainland stock market, but also affirms its edge to become a financing platform for the country's "One Belt, One Road" initiative. This should be a key driver for the Hong Kong economy for the next 30 years, according to Financial Secretary John Tsang Chun-wah. Tsang made these comments while Chief Executive Leung Chun-ying was visiting Beijing for talks with officials on a range of possible roles for Hong Kong in "One Belt, One Road".
Will the market stabilize going forward? The answer is somewhat mixed at present.
Goldman Sachs Chief Asia-Pacific Strategist Timothy Moe said that the mainland stock market had probably not yet bottomed out. However, he said that during the next one to two weeks signs of bottoming out might occur.
But Liu He, a top economic adviser to President Xi Jinping, told reporters that neither the mainland economy nor its stock market were in bad shape. And according to data from Boston EPFR Global, big US investment institutions have started buying since early July.
In 1996, the then vice-premier Zhu Rongji, much respected by the people for fending off the Asian financial crisis 1997-98 and praised by Deng Xiaoping as "the person who knows economy", oversaw a rise on the Shenzhen stock index from about 950 to over 4,000. His warning to investors was: "The stock market has risks; when you lose money, you come to me. Does this make sense?"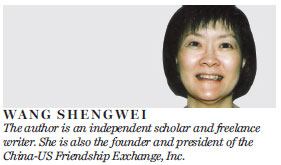 (HK Edition 07/17/2015 page12)