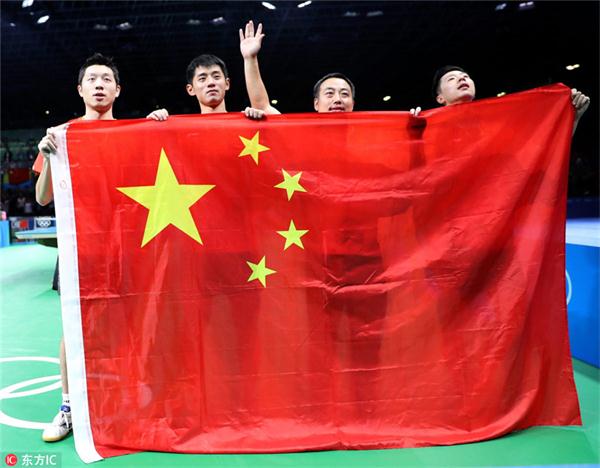 The Chinese team celebrate after winning the men's team match of the Rio 2016 Olympic Games table tennis events at the Riocentro in Rio de Janeiro, Brazil, Aug 17, 2016. [Photo/IC]
Seen from the largest-ever delegation of athletes China sent and the restricted participation of Russian athletes, Chinese athletes were expected to give a commendable performance at the Rio Olympics.
However, halfway through the games China lies third in the medal table, which heralds the possibility that Chinese athletes may reap fewer gold medals than in previous games.
Since the Athens Olympics in 2004, China has always been higher than third in the medals table, and Chinese have come to consider being first or second normal for the Chinese team.
The games in Rio though are the first Olympics since China's central government issued guidelines aimed at accelerating the country's sports development. Thus some have suggested the performance of the Chinese team in Rio is a sign of the development of China's sport industry. Some have even said the Beijing Olympics in 2008 were the last games for which China applied its long-standing sports strategy of gold medals first.
A survey by China Youth Daily last year indicated 94.4 percent of respondents said they expected the Chinese team to win fewer medals at the two Summer Olympic Games after the games in Beijing, as the hosts usually fare less well in the next two Olympics. And Chinese people, both the participating athletes and audiences, have shown a change in attitude toward winning gold medals.
Therefore, the lower medal haul in Rio offers an opportunity to realize the limitations of the country's traditional sports system and to foster a good environment for the country to promote reforms of its sports industry.
Beside reform of competitive sport, China also needs to boost its mass sports participation to enhance the fitness of ordinary people and promote balanced development of the sports sector. The country should bid farewell to the past obsession with gold medals and shift more resources to the development of sports for ordinary people.