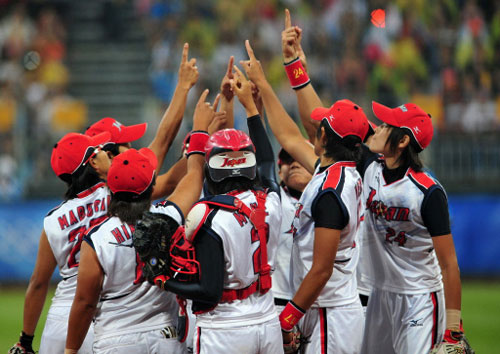 Japan's players gesture ahead of their game against the US in their gold medal final at the Fengtai Softball Venue during the 2008 Beijing Olympic Games on August 21, 2008.[Photo/Agencies]
Should we take elementary schoolers' dreams seriously?
The question came to my mind while I was watching the ongoing Rio Olympic Games on TV.
Japanese athletes' success stories may provide food for thought in this respect.
Many a Japanese Olympian wrote down their dreams in essays upon graduation from their elementary schools. (It seems to be a tradition in Japan that pupils are asked to leave their dreams for the record.)
They started their journey to the Olympic Games at a very young age-Japan's swimming darling Kosuke Hagino reportedly came to the pool at age of one.
Kohei Uchimura, the Japanese gymnastics sensation who has grabbed the men's all-round gold and led Japan to team gold in Rio, began training at his parents' gym in Nagasaki when he was just three years old. A notebook from when he was in the fifth-grade, with his frame-by-frame sketches of the movements for the floor exercise, vault and horizontal bar, lays bare his enthusiasm for the sport.
Competing with his boyhood rival Daiya Seto and idol Michael Phelps in Rio's pool, the 21-year-old Kosuke Hagino has won one gold, one silver and one bronze.
Kaori Matsumoto, dubbed a "beast" for the ferocity of her fighting style and unfettered natural instincts, started judo at the age of six. Her chances to travel the world as a national representative won the envy of her mother. Matsumoto's promise to take her mother to her matches has made her stronger.
Keisuke Honda's childhood dream came true in 2014 when he joined Italy's AC Milan from CSKA Moscow.
In 1999 when he was 13, Honda revealed his fantasy in his essay that he aspired to be the best soccer player in the world. And the young dreamer knew that he had to work harder than others to be the greatest. He made a clear plan for his grown-up years: playing as No 10 in a team in Italian Serie A, becoming Japanese national team's figurehead and getting rich to repay his parents.
Amazingly, most of Honda's fantasies have become reality.
Many Japanese athletes' parents have flown to Rio to support their son or daughter in pursuit of medals, honor and fame, and offer consolation when required.
These parents have encouraged their children to chase their childhood dreams even though the training exacts a heavy financial toll on a family, not to mention the time commitment. To these supportive parents, their children's effort to make it to the Olympic Games, with or without a medal, is already a success.
Every four years superbly trained and conditioned athletes pursue their Olympic dreams. Every time the Olympics air, young children are inspired.
I'm wondering how many seeds the Olympians' success will plant in the hearts of young children watching the Games on TV.
If they are already in a sport, they may work harder, dreaming of an Olympic gold. If they have not yet started a sport, they may want to begin to see if they, too, can be like their Olympic idols.
It appears that Japanese elementary schoolers' essays have many tea leaves to read. Adults shouldn't ever doubt the power of a child's fantasy.
The author is China Daily Tokyo bureau chief.
caihong@chinadaily.com.cn