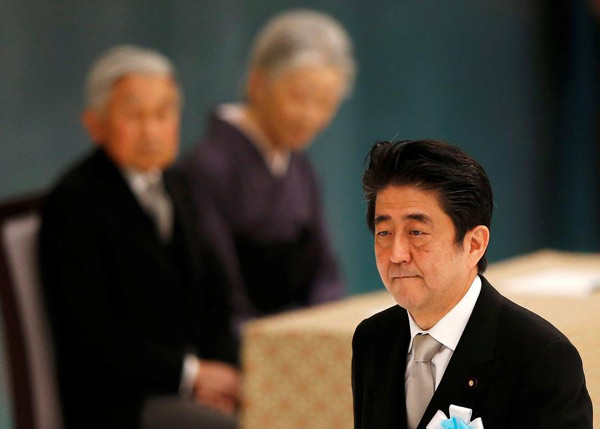 Japan's Prime Minister Shinzo Abe (R) walks past Japan's Emperor Akihito (L) and Empress Michiko during a ceremony marking the 70st anniversary of Japan's unconditional surrender in World War II at Budokan Hall in Tokyo, Japan August 15, 2015. [Photo/Agencies]
TOKYO - The Japanese government held an annual ceremony Monday in Tokyo to mark the 71st anniversary of Japan's unconditional surrender in World War II (WWII) and Prime Minister Shinzo Abe once again failed to mention "reflection" over the past war.
Japanese Emperor Akihito stated his "deep remorse" over the past war for the second time at the national memorial service, and expressed his wish for world peace.
However, Abe, though vowing not to repeat the horrors of war, shied away from mentioning Japan's wartime aggression or the suffering Japan had inflicted upon other countries before and during the World War II.
This is the fourth consecutive year for Abe to fail to mention "reflection" at the annual memorial service since he retook office as prime minister in 2012.
It raised increasing concerns over Japan's possible shifting away from pacifist stance, with the newly enacted security laws allowing Japan's self-defense forces to fight wars abroad and Abe attempting to revise Japan's pacifist Constitution.
Regardless of the feelings of the peoples of neighboring countries, Abe also sent his aide Yasutoshi Nishimura to make an offering Monday morning as leader of the ruling Liberal Democratic Party (LDP) to the notorious Yasukuni Shrine which honors 14 Class-A convicted criminals among 2.5 million Japanese war dead from the World War II.