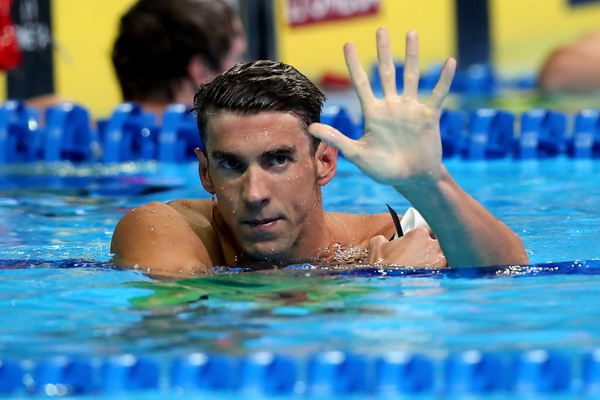 Michael Phelps of the United States reacts after winning the final heat for the Men's 200 Meter Butterfly during Day Four of the 2016 US Olympic Team Swimming Trials at CenturyLink Center on June 29, 2016 in Omaha, Nebraska. [Photo/VCG]
'It breaks my heart and I wish somebody would do something about it," said golden boy Michael Phelps almost two weeks ago. He was referring to the use of drugs, performance-enhancing drugs, in sports.
The dark shadow of drugs on sports is not new. Perhaps the first big doping scandal was the disqualification of Canada's Ben Johnson at the Seoul 1988 Olympics after he had set a new world record, 9.79 seconds, in the 100 meters dash. The shockwaves Johnson's disqualification sent across the world were possibly more disturbing than those generated by seven-time Tour de France winner Lance Armstrong's doping scandal more than two decades later considering the inroads the global media had made into people's lives by then.
Few, if at all, remember Johnson had beaten Lewis at the Rome World Championships in 1987 to the 100m crown, clocking a world record at 9.83 sec in the process. The International Association of Athletics Federation rescinded that record, too, in 1988 after Johnson confessed to have taken steroids before the race.
No one would dispute the actions taken by the IAAF. But it's worth recalling what Johnson's coach Charlie Francis said at the time. He said Johnson used drugs to match his rivals, many of whom were also on drugs, and was unlucky to get caught. True to Francis' charge, six of the eight finalists in the 100m sprint in 1988 tested positive at some point in their careers, including the British Jamaican Linford Christie who was moved up to silver in 1988 and won the gold at Barcelona 1992.
Even before the opening ceremony in Rio de Janeiro, the Russians were accused of institutionalizing the use of drugs in sports, and the entire Russian contingent was on the verge of being banned from the 2016 Olympics. Before that, the darling of many a tennis fan Maria Sharapova was banned for two years after confessing to have unknowingly used a banned drug.
Today's sports stars have a fan following their predecessors could not have even dreamed of. The Pavo Nurmis, Jesse Owens, Fanny Blankers-Koens, Larisssa Latyninas, Mark Spitzs and Nadia Comanecis couldn't have even dreamed of the accolades and the money their successors get today. Franz Puskas, Pele, Johann Cruyff and Diego Maradona earned a pittance compared with what the Ronaldos and Messis do today. How much did Bjorn Borg, Jimmy Connors, John McEnroe and Pete Sampras or Chris Evert, Billie-Jean King, Martina Navratilova and Steffi Graff earn? Definitely less than even Anna Kurnikova, who was nowhere near their class, did. Looks also matter.
The investment of billions of dollars has turned sports into an industry, a profitable business. The world economy is still struggling to emerge from the shocks of the global financial. Yet take a look at the European soccer clubs, the tennis and golf circuits, the NBA (and, if you may, at the cricket board in India), and the athletics federations! They are floating in money. And investors from across the world are ready to pump in more cash into them to up their stakes. And business has always been a crooked business.
The other day a friend said: Why make a song and dance about doping in sports-drugs can raise an athlete's performance by only a bit?" Another replied: "Well that bit, a fraction of a second, can make you a world champion." And bring more money and sponsors.
This is not to say athletes rely solely only on drugs to boost their performance. They put in years of backbreaking work. Had they not done so, Russia wouldn't be occupying the fifth spot on the Rio medal table despite not having many of its athletes.
Which means drugs will continue to soil athletes' performance as long as sports remains a business.
The author is a senior editor with China Daily. oprana@hotmail.com