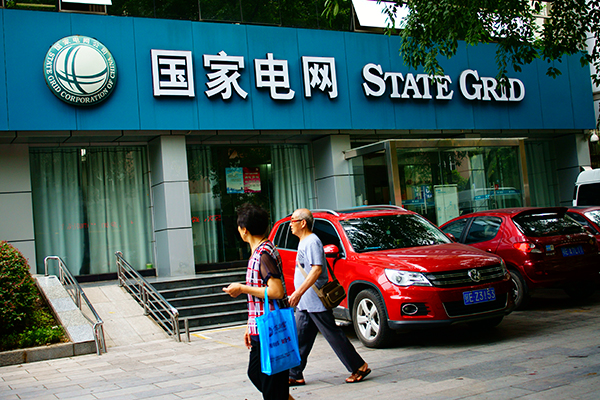 Pedestrians pass by a local branch of State Grid Corp in Yichang, Hubei province. [Photo provided to China Daily]
Australia has been a favorite destination for Chinese investors because of its abundant resources and geographic proximity to China. But since the mid-2000s Australia has rejected a number of Chinese investments-some because of procedural rules, others on national security grounds. In response, Chinese companies have been studying their potential targets in detail to avoid a clash of interests with the host government.
In the latest such move, Australia's Federal Treasurer Scott Morrison said the government would veto, again on national security grounds, two Chinese companies' $7.7 billion bid to buy the controlling stake in the country's biggest energy grid, AusGrid. Morrison's decision was applauded by politicians in Australia as well as the United States, even though the US is unlikely to ratify any time soon the Trans-Pacific Partnership that was signed in February and benefit from the move.
Later, Reuters quoted Australia's foreign investment review board chairman Brian Wilson as saying that blocking the grid sale was "not a politically influenced decision. It is a result of a confluence of events".
Understandably, some Chinese companies were shocked and the Ministry of Commerce said the move smacked of trade protectionism. And no matter what Wilson said, the Australian government thwarting its own privatization initiative was nothing but a political move.
Yet even more shocking was the act of the individuals who celebrated Australia's decision by mongering fear saying China's strategy is to use Australia's civil power grid to propel its future "military expansion" plan.
The Australian media have quoted a few sources expressing such opinions, and they should not be taken lightly because they represent, quite clearly, a fairly consistent viewpoint.
If people's actions can be taken as the mirror of their minds, it would mean these people will use the same military-related allegations to jettison any investment plans Chinese enterprises, including private ones, have for Australia. It betrays the fact that these people have always seen China as an enemy, even though many people believe the Cold War is a thing of the past.
What sort of globalization is this? All governments committed to fair trade and business should ask this question.
If globalization means a game in which a country is allowed to play its part if it follows the rules, then no country can best China. If it means China has to be thrown out of the game simply because someone else's game, like the TPP, is not making any progress, then it's a fixed game.