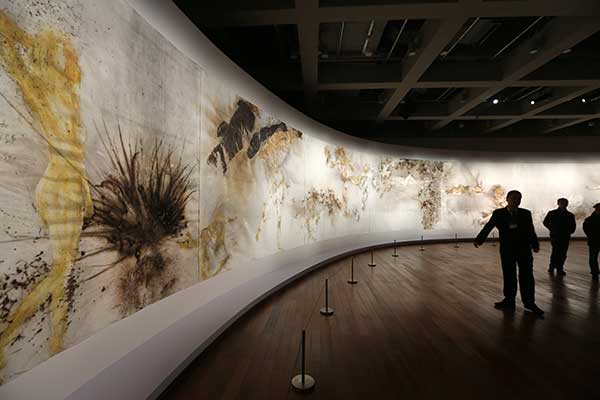 Cai's gunpowder painting Day and Night makes a dramatic statement at a recent show in Suzhou, Jiangsu province.[Photo by Xu Congjun/Agencies]
The conversations with individual artists, together with Cai's discussions with curators and scholars from home and abroad, are part of a 500-page book by the same name as the Doha exhibition title.
What About the Art?: Contemporary Art from China was published by Guangxi Normal University Press in March.
"Art is not only about content alone, it is also about expression. If you see Chinese art today, you can barely tell which is whose work because the works tend to resemble one another," he says of what he describes as the lack of individual style.
"Even today, we are still learning from the West to create modern art, but we haven't learned to respect individualism in art."
Group exhibitions of Chinese art in recent years have presented different artistic forms: sculptures, painting, performance art and films, but that doesn't mean diversification of attitudes toward art or unique presentation skills in works, he says.
"Maybe works that talk about an artist's sexual experiences or pain after a break-up offer individual styles."
In the book, Cai introduced artist Li Liao, who used installation art to express his state of mind after his wife's affair came to light. Li's work is called Scorpio, his zodiac sign.
"Because people with this sun sign are good at revenge," Li is quoted as telling Cai in the book.