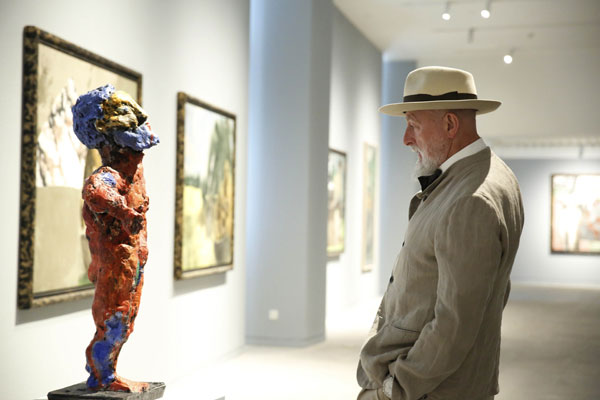 German artist Markus Lupertz stands in front one of his works at Times Art Museum in Beijing. He says he made the figures based on himself. [Photo provided to China Daily]
Beijing has welcomed a slew of notable Western artists in recent weeks. The city's art lovers who came out in force to welcome pop art legend David Hockney are now flocking to the exhibition of German neo-expressionist Markus Lupertz. The show Markus Lupertz in China at the Times Art Museum displays 81 paintings and sculptures created in the past 10 years. It is Lupertz's largest-ever solo show in China. The show, which runs through May 24, will travel to Guangzhou in June. The opening of the exhibition happened to be the artist's 74th birthday. Wearing a fashionable suit, a hat and a bow-tie, and carrying a walking stick, Lupertz says he feels he is more of a Bohemian than an "art fighter", a label given to him by others.
When asked about the role of paintings in the era of new media and technology, Lupertz states his belief that painting will never die. Instead, it will save art in a time when technology has freed people from paint and canvas, which is thought to have brought forward the death of painting.
"If one never sees a painting of a sunset, he won't appreciate the real sunset. Painting is a beautiful way for one to be a better man," says Lupertz.