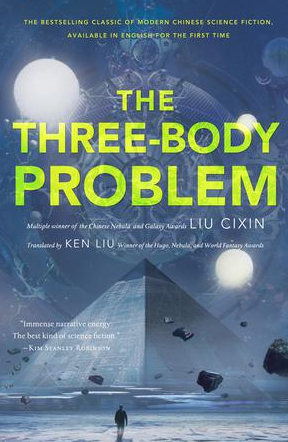 The Three-Body Problem is adapted into a film. [Photo/Agencies]
Chinese film producers have been courting sci-fi authors to secure a share in the fledgling domestic sci-fi movie industry, but in reality it is tougher than expected.
Although expectations are high, it is really difficult to land a good script, said Yan Peng, film critic and planning supervisor at Beijing Galloping Horse Film & TV Production Co.
"Script commissioners have to read a lot. One person I know even dug out all prize winning pieces published in the periodical 'Science Fiction World' over the past 30 years," said Yan.
Any scriptwriter with Sci-fi savvy is hot property now, as more and more film makers look to them to adapt screenplays.
Zhang Liang, who uses Jiong Shu (literally means embarrassed uncle) as his pen name, is one of such scriptwriters.
"The audience is not necessarily made up of sci-fi fans, film makers must consider average movie-goers. A successful sci-fi movie should not be packed with sci-fi elements. An entertaining story planted in a sci-fi scenario would be a better choice," said Zhang.
"In the past, not many people took science fiction seriously. The cinema world and sci-fi didn't cross. Now they are just trying to understand each other," he added.
In fear of missing out on promising novels for movie adaption, film makers are vying to purchase sci-fi novels. "Some film companies I think are simply hoarding for the future," said Zhang.
Yan Peng said that most sci-fi movies under production cost more than 50 million yuan ($8,01 million) each, with the most expensive one budgeted at roughly 100 million yuan.