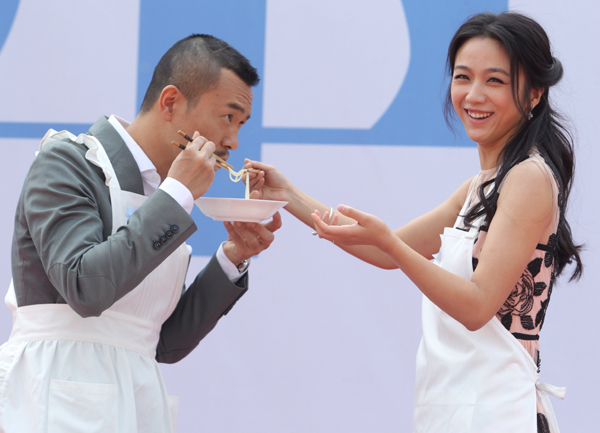 Chinese actress Tang Wei feeds actor Liao Fan noodles during a press conference in Beijing. Jiang Dong / For China Daily
Famed for his sharp style of criticism, the Chinese director Feng Xiaogang seems to struggle to hide his strong personality even during a promotional event for the upcoming film he's producing.
In Tuesday's press conference to tout the romantic comedy Only You, which will hit mainland theaters on July 24, Feng has raised eyebrows for his reviews on women's "limited IQs" in romance.
"When women are falling in love, you really need to worry about their intelligence, as they are easily convinced by men's sweet lies," says the 57-year-old, smiling, who is regarded as one of the most commercially successful directors in the country.
Though teasing about women's roles in affairs, Feng isn't shy about using off beat humor, which has earned a fortune for the director behind a number of comedy blockbusters.
"Good guys are really boring. Bad guys are interesting. If a man wants to win the heart of his beloved woman, he should be a bit bad," says Feng.
Only You, produced by Feng and directed by newbie filmmaker Zhang Hao, is a romance narrative that follows a series of misunderstandings between a mismatched couple. Though the producers haven't revealed if the protagonists try to be bad to win the "love battle", the heavy-duty cast shows the lead actors can handle the roles.
The feature-length movie stars top actress Tang Wei of Lust, Caution and veteran actor Liao Fan, the best-actor winner at the 64th Berlin International Film Festival for Black Coal, Thin Ice.